DESIGN MEETS PERFORMANCE
HP DesignJet Studio Series Printer
For design professionals, where the style of their workplace is a statement about themselves as well as their business. Manufactured in a sleek and contemporary white design with wooden or steel accents, the HP DesignJet Studio Printer delivers a high-performance printing experience that does not compromise on speed or print quality, whilst being the first carbon-neutral large format printer on the market today.
Fits the way you live
Designed to fit the way you live, this compact yet powerful printer fits perfectly within the modern design aesthetic of creative workplaces. Meeting stringent enviromental considerations in both its Carbon netural manufacture, low ink usage and low power consumption when left idle.
First Carbon Neutral Certified Printer
Available in two sleek finishes
Optimized ink and media usage
Small & Compact Design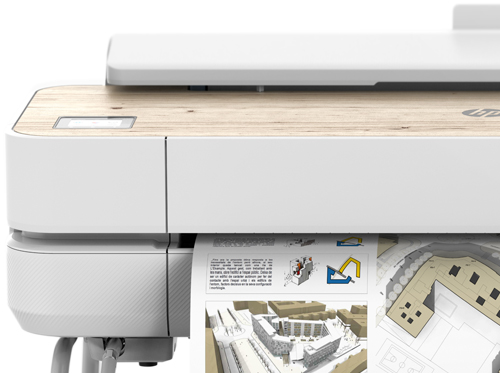 Extreme simplicity
Experience simple and intuitive operation thanks to a range of powerful apps and job submission tools that enable you to print with confidence and get the print results you expect everytime.
Simple job submission
(HP Click)
Manage prints from your mobile device
WiFi enabled
Gigabit Ethernet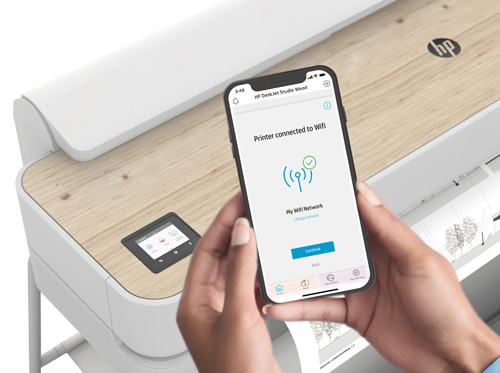 Seamless printing experience
Reduce user intervention and multi-task with ease with HP DesignJet Studio's integrated auto-switching roll and multi-sheet feed system that enables you to print A3/A1/A0 jobs without the need to manually switch media.
Front loading roll feed
Integrated A4/A3 paper tray
Retractable fabric basket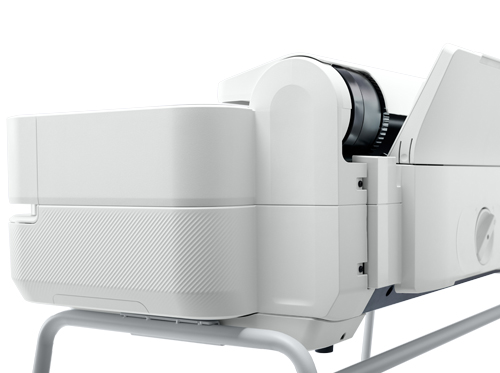 High quality results
With 31% more line accuracy and 65% more colour gamut than its competitors the HP DesignJet Studio series delivers a high performance experience for design professionals and is uniquely designed without ever compromising on speed, quality or ease of use.
2400 x 1200 dpi print resolution
4 Colour (C,M,Y,mK) Dye & Pigment Ink
Print speeds of up 25 seconds per A1 print
HP Thermal inkjet print technology
AWARDS / REVIEWS
The new DesignJet Studio Series, brings a new level of design, simplicity and connectivity for creative professionals. With their automatic printing of A3/B and large format, their ability to print from anywhere and their extreme simplicity, the DesignJet Studio series of printers are perfect for AEC professionals that work either in the office or from home. In addition, their use of recycled plastics and the introduction of our first net carbon neutral large format printer underlines HPs continued commitment to our planet.
Guayente Sanmartn
General Manager and Global Head, HP Inc
7 out of 10 architects are being regularly interrupted during work to print for colleagues. This seemingly small challenge means there is friction that is holding them back from the next great project. HP is leading the transformation in Large Format for small to medium-size businesses so the workplace printing experience feels as smart and easy as it does at home, enhanced with security for peace-of-mind
Guayente Sanmartn
General Manager and Global Head.
SPECIFICATIONS
Model size
Print

Maximum print speed
610mm - 26 sec/page, 81 A1 prints per hour
914mm - 25 sec/page, 82 A1 prints per hour
Print resolution
Up to 2400 x 1200 optimized dpi
Technology
HP Thermal Inkjet
Margins
Roll: 5mm x 5mm x 5mm x 5mm
Sheet: 5mm x 5mm x 5mm x 5mm
Ink Types
Dye-based (C,M,Y); Pigment-based (K)
Page Yield
20ml of ink yields 101 A1/D pages, taking into account maintenance routines
Ink drop
5.5 pl (C,M,Y); 12pl (K)
Printheads
1 (cyan, magenta, yellow, black)
Printhead nozzles
1376
Line Accuracy
+/- 0.1%
Minimum line width
0.02mm
Max optical density
8L* min/2.10 D

Media

Handling
Sheet feed, roll feed, automatic sheet feeder, media bin, automatic horizontal cutter
Roll size
610mm - 279mm to 610mm
914mm - 279mm to 914mm
Sheet size
Auto sheet feeder:
210mm x 279mm to 330mm x 482mm
610mm manual feed:
210mm x 279mm to 610mm x 1897mm
914mm manual feed:
210mm x 279mm to 914mm x 1897mm
Standard sheets
Auto sheet feeder:
A4, A3
610mm manual feed:
A4, A3, A2, A1
914mm manual feed:
A4, A3, A2, A1, A0
Grammage
60 to 280 gsm (roll/manual feed)
60 to 220gsm (auto-sheet feeder)
Thickness
Up to 0.3mm

Applications

Application Types
Line Drawings, Presentations, Renderings
Memory
1GB
Hard Disk
None
Connectivity

Interfaces
Gigabit Ethernet (1000Base-T), Hi-Speed USB 2.0, Wi-Fi 802.11
Print languages (standard)
HP-GL/2, HP-RTL, CALS G4, JPEG, URF
Drivers
Raster driver for Windows and MacOS

Dimensions

Printer
610mm - 1013mm x 555mm x 932mm
914mm - 1317mm x 555mm x 932mm
Shipping
610mm - 1199mm x 590mm x 524mm
914mm - 1470mm x 575mm x 646mm

Weight

Printer
610mm: 33.6kg
914mm: 41.7kg

Shipping
610mm: 43kg
914mm: 62kg
What's in the box

HP DesignJet Studio series printer, printer stand, automatic sheet feeder, roll cover, printhead, introductory ink cartridges, spindle, quick reference guide, setup poster, power cord

HP Software and Solutions

HP Click, HP Smart App, HP Print Preview for Windows, HP Easy Start, HP DesignJet Utilities for Windows, HP Support Assistant

Remote print enabled
One-click multi-size printing
Environmental ranges

Recycled plastic in printer
10%
Operating temperature
5 to 40 degree centigrade
Operating humidity
20 to 80% RH
Operating altitude
Up to 3000m
Storage temperature
-25 to 55 degree centigrade

Acoustics

Sound pressure
42dB(A) (operating), < 16dB(A) (idle)
Sound power
5.8B(A) (operating), <3.4 B(A) (idle)

Power

Consumption
< 35W (printing), <5.6W (ready), <2.1W (Sleep), <0.2 W (standby)
Requirements
Input voltage (auto-ranging): 220-240 V (+/- 10%_. 50/60Hz (+/- 3Hz), 1200mA max

Certification

Safety
EU (LVD, EN60950-1 and EN62368-1 compliant); Russia, Belarus, Khazakstan (EAC), Ukraine (UA)
Electromagnetic
Compliant with Class B requirements EU (EMC/RED Directives)
Environmental
ENERGY STAR; WEEE; EU RoHS; EAEU RoHS; REACH: ErP

Warranty

Two year limited hardware warranty
Copyright © 2013-2017 Magento, Inc. All rights reserved.