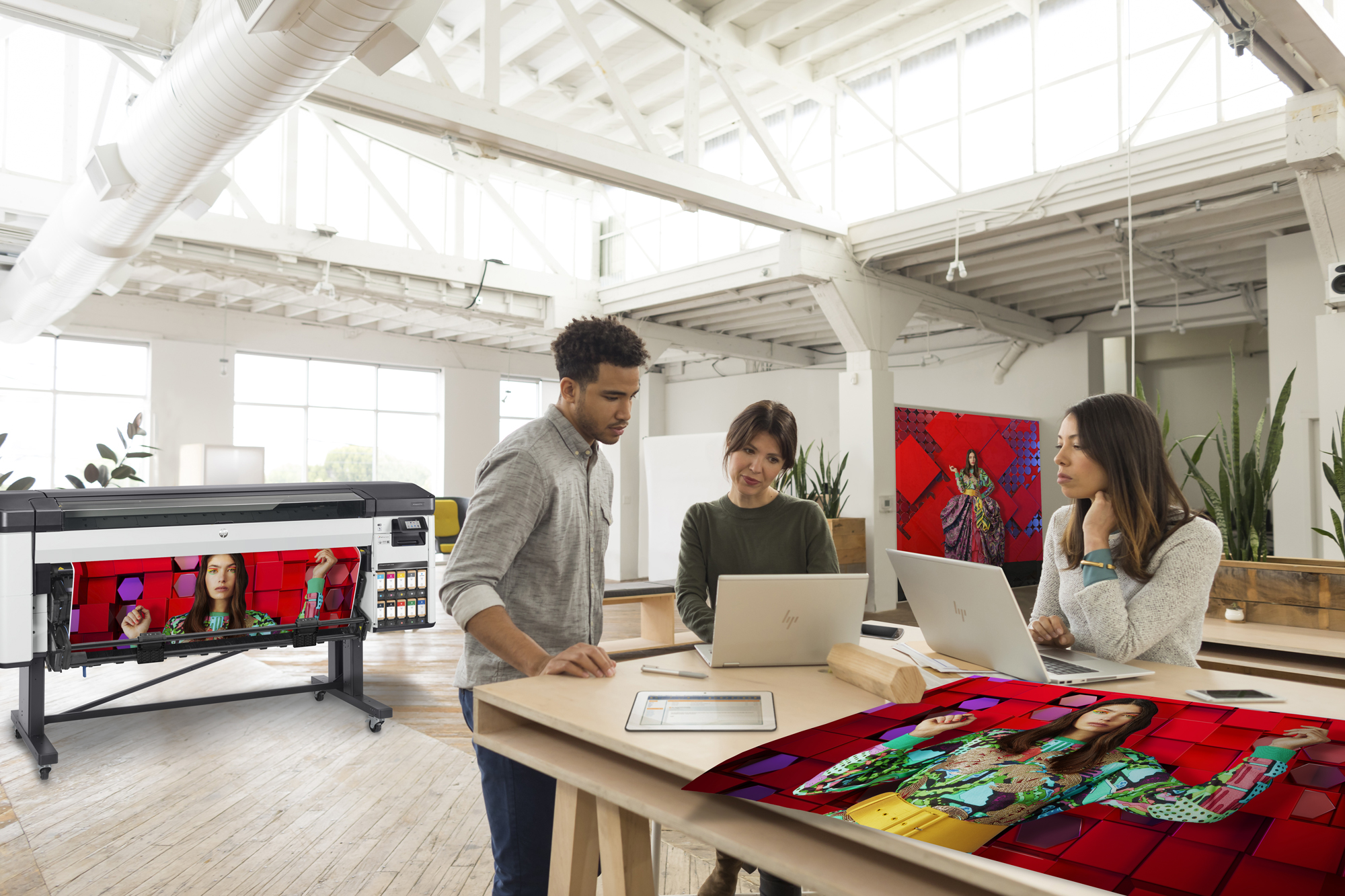 MAKE AN IMPACT WITH YOUR PRINT
HP DesignJet Z9+ Pro Series
Amaze your clients by delivering the highest professional-photo quality prints with the widest colour gamut, output detail and colour consistency all at production level output speeds.
Exceptional output quality
Achieve exceptional output quality and colour consistency thanks to HP's HDNA high definition printheads, HP Vivid Photo inks and revolutionary HP Pixel Control. Prints achieve 95% Pantone coverage and have the highest print permanence ratings on a wide range of print materials.
2400 x 1200 dpi print resolution
9 colour (cG, cB, G, cR, mK, M, Y, C, pK) ink + gloss enhancer
95% Pantone Coverage
HP HDNA High Definition Printheads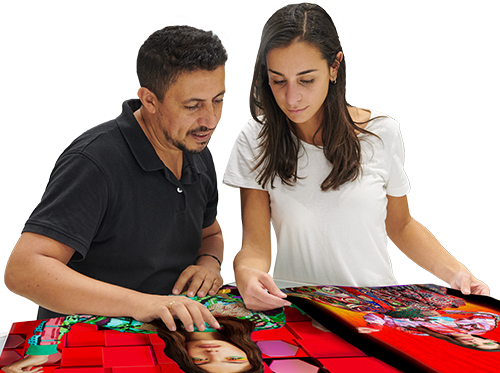 Maximise productivity
Drive your productivity and print capacity to the next level thanks to a heavy duty roll feed system, high capacity 1 litre eco ink cartridges and optional take up reel for greater unattended operation.
Print speeds of up to 98 square meters per hour
Heavy Duty Dual Roll Feed
High capacity 1 litre ink cartridges
Optional take up system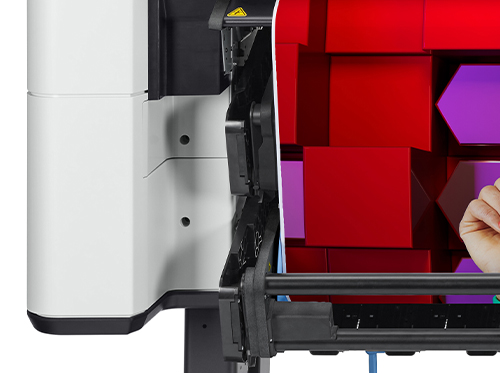 Smart and intuitive operation
Control your print operation with ease thanks to a highly intuitive touchscreen interface and a host of online and remote monitoring tools to help maintain print production and operation of the printer wherever you are.
Intuitive touch screen interface
Easy maintenance and operation
Over 1800 pre-generated media profiles
Remote printer monitoring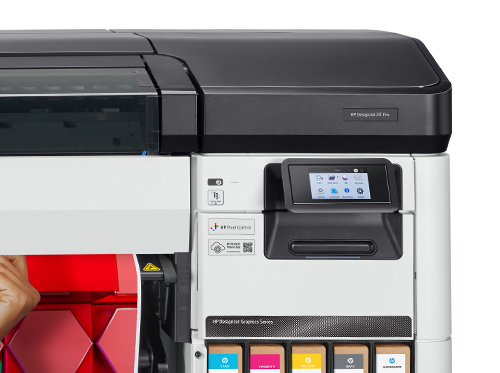 Sustainability at its heart
Made with sustainability in mind from its manufacture to print production, the DesignJet Z9 Pro is constructed from 30% recycled materials and is supported with a extensive range of HP ink and media recycling programs creating more print opportunities while still meeting customers demands for sustainable print.
Constructed from 30% recycled plastic
80% plastic reduction in ink cartridge construction
Extensive range of eco-conscious media
Recyclable and returnable print at end of life
AWARDS / REVIEWS
As our customers continue to grapple with uncertain business conditions following a uniquely challenging past couple of years, we know that expanding their print application reach, an ability to move fast, and outstanding colour and graphics performance define their large format printing needs. This is why were introducing the new HP DesignJet Z Pro series t designed to help users navigate uncertain demand, respond to tighter deadlines and unlock untapped potential in their own offerings.
Daniel Martinez
General Manager, Large Format Business, HP
Our customers are constantly under competitive pressure to differentiate their print offerings and meet tight deadlines. To help our customers address these needs, HP continues to deliver innovations built to fit the varying demands of graphic professionals.
Ramon Pastor
Vice President and General Manager, HP Large Format Design Printing, HP Inc
Its amazing to bring the most advanced HP printing technologies to support the teamwork of architects and engineers designing and building the future.We thoughtfully designed the new printers to deliver impressive photo quality without compromising time resources and output speeds and innovative colour technologies.
Guayente Sanmartn
General Manager and Global Head, HP Large Format Design Printing, HP Inc
SPECIFICATIONS
Print

Printing speed
98 m2/hr - Fast (on plain media)
29 m2/hr - Normal (on coated media)
14.1 m2/hr - Best (on photographic media)
Print resolution
Up to 2400 x 1200 optimised dpi
Technology
HP Thermal Inkjet
Margins
Roll: 5mm x 5mm x 5mm x 5mm
Ink types
Pigment-based
Ink drop
7/3pl dual drop weight (Magenta, Cyan, Photo Black, Chromatic Blue, Gray);

6pl single-drop weight (Yellow, Chromatic Red, Matte Black, Chromatic Green)
Printheads
5 universal printheads (valid for all colours)
Printhead nozzles
3136 per colour; 28,224 in total
Line accuracy
+/- 0.1%
Minimum line width
0.02mm
Colour accuracy
Median <1.6 dE2000, 95% of colours <2.8 dE2000
Short-term colour stability
<1 dE2000 in less than 5 minutes
Long-term print-to-print repeatability
Average < 0.5 dE2000, 95% of colours < 1.4 dE2000
Max optical density
4L* min/2.5D

Media

Handling
Two automatic roll feeds with smart roll-switching, spindle-less system, optional take-up reel functionality, media output bin, automatic horizontal cutter (cuts all HP DesignJet Z series certified media including most canvas)
Roll size
420mm to 1626mm
Grammage
80 to 500 g/m2
Thickness
Up to 0.6mm

Applications

Print applications
Banners, Displays, Exhibition and Event Graphics, Canvas, Indoor Posters, Photographic and fine art reproduction, Light Boxes, Murals, POP, POS.

Storage & memory

Memory
4GB
Hard disk
500GB self-encrypting

Connectivity

Interfaces
Gigabit Ethernet (1000Base-T) (802.3, 802.3u, 802.3ab)
Native print languages
TIFF, JPEG, CALS G4, HP-GL/2, HP-RTL
Print languages (optional)
Adobe PostScript 3, Adobe PDF 1.7
Printing paths
Print drivers, HP Click, printing support for Chrome OS, HP Print Service plugin for Android, HP Smart app for iOS and Android, HP SmartStream
Drivers
Raster drivers for windows, Raster drivers for macOS, PDF driver for window and PostScript driver for macOS with optional PostScript/PDF upgrade kit
Security features
HP Secure Boot, Whitelisting, Role-based Access Control, SNMPv3, HTTPS, Secure-IPP, IPsec/Firewall, Certificates management, 802.1X, TLS 1.0/1.1/1.2, HP Web Jetadmin compatible, HP JetAdvantage Security Manager compatible, Secure Disk erase (DoD 5220.22-M), Secure File erase, self-encrypted HDD, encrypted PIN printing, unique admin password, HP Connection Inspector

Dimensions

Printer
2605mm x 790mm x 1402mm
Shipping
2800mm x 750mm x 1302mm

Weight

Printer
170kg
Shipping
264kg

What's in the box

HP DesignJet Z9+ Pro Printer, printheads, introductory ink cartridges, maintenance cartridge, printer stand and media bin, 3-in core adapter, quick reference guide, setup poster, power cord, user maintenance kit

HP Software and solutions

HP Click printing software, HP PrintOS, HP Partner Link, HP DesignJet Accounting Tool, HP Web Jetadmin, HP SmartTracker (optional), HP SmartStream (optional), HP JetAdvantage Security Manager (optional)

Environmental ranges

Operating temperature
5 to 40 degrees centigrade
Operating humidity
20 to 80% RH
Storage temperature
-20 to 55 degrees centigrade

Acoustics

Sound pressure
52dB(A) (operating), < 25dB(A) (idle), <20 dB(A) (sleep)
Sound power
6.9 B(A) (operating), 4.3 B(A) (idle), < 4.0 B(A) (sleep)

Power

Consumption
150W (printing); <30 W (ready); <9W (sleep); 0.3W (off)
Requirements
Input voltage (auto ranging): 100-240 V (10%), 50/60 Hz (3 Hz), 3 A max

Certification

Safety
IEC 60950-1+A1+A2 compliant; IEC 62368-1 compliant; USA and Canada (CSA listed); EU (LVD, EN 60950-1 and EN 62368-1 compliant); Russia, Belarus, and Kazakhstan (EAC); China (CCC)
Electromagnetic
Compliant with Class A requirements, including: USA (FCC rules), Canada (ICES), EU (EMC Directive), Australia and New Zealand (RCM), Japan (VCCI), Korea (KCC), China (CCC)
Environmental
ENERGY STAR 3.0, WEEE, EU RoHS, REACH, EPEAT

Warranty

One year limited hardware warranty
Copyright © 2013-present Magento, Inc. All rights reserved.