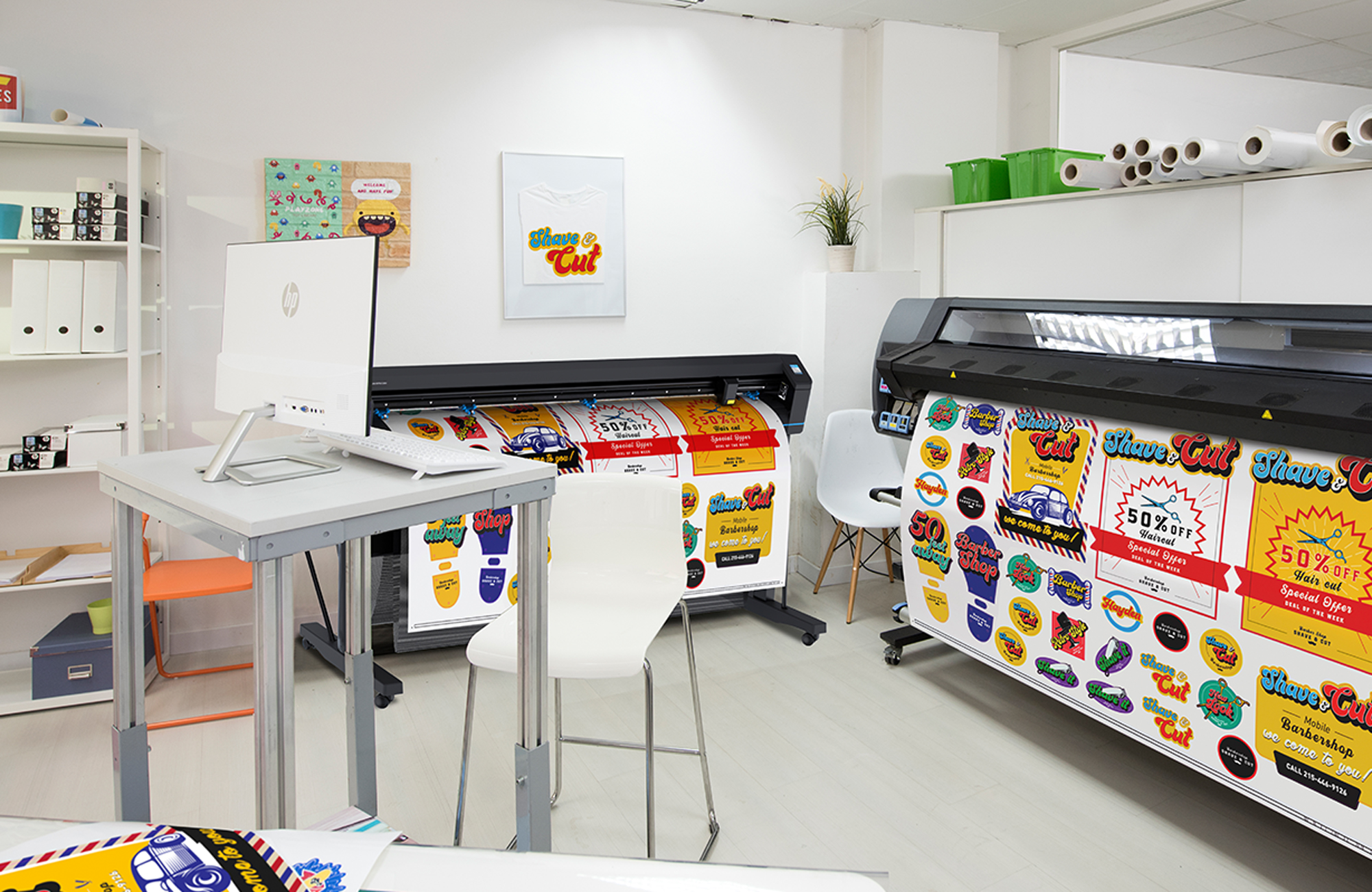 EXPAND YOUR PRINTING POTENTIAL
HP Latex 335 Print and Cut Plus Solution
Expand into both into indoor and outdoor applications and double your product speed with this truely innovative dual device print and cut solution.
Easy and intuitive operation
A simplified and automated colour management feature enables access to a library of over 1800 pre-generated media profiles online. Or create your own profile using its built-in spectrophotometer through an easy to use touchscreen display.
High resolution 4 touchscreen interface
Over 1800 pre-generated media profiles
Easy maintenance and operation
Built-in spectrophotometer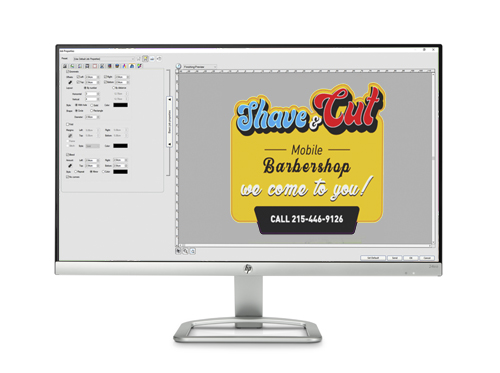 Upgrade your printing potential
Achieve outstanding print quality at speed on a wide range of materials to produce prints that are instantly dry and are scratch, UV and weather resistant for up to 3 years outdoors.
1200 x 1200 dpi print resolution
Print speeds of up 50m2/hr (Billboard 2 pass)
6 colour (C,M,Y,K,Lc,Lm) latex ink + optimiser
3 Year outdoor durability
True print and cut
The dual device solution enables you to print and cut simultaneously doubling the production speed of alternative combined single unit print devices.
Drag knife cutting technology
Up to 1130mm/sec diagonal cutting speed
Up to 600 grams of cutting force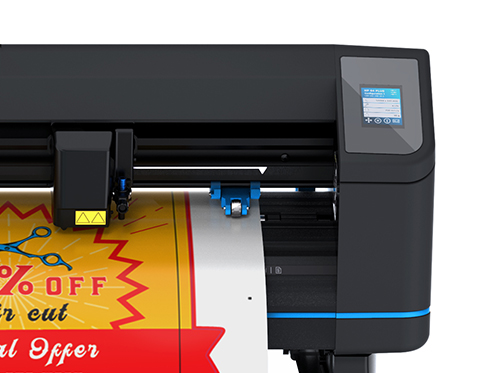 Drive high productivity
With a heavy duty 55kg spindleless roll feed system, energy efficient curing system, large 1 litre ink cartridges and built-in automatic take up reel enables you to drive high productivity and greater unattended operation at peak production times.
Heavy duty take up system
High capacity 775ml ink cartridges
Energy efficient curing system
Remote printer monitoring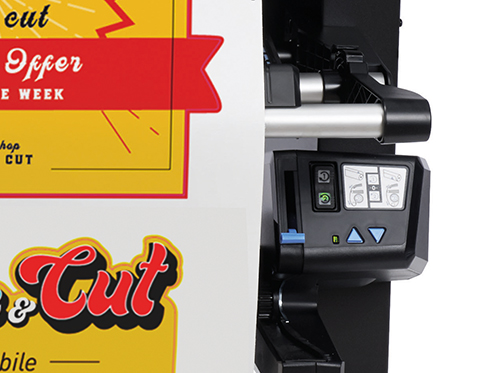 AWARDS / REVIEWS
"This introduction marks another step forward in how HP creates the best experiences for our customers. HP print and cut reduces total cost and improves workflow, enabling Latex water-based inks to further replace solvent for indoor and outdoor applications. The solution reinforces the market momentum toward HP technology, now reaching the milestone of 42,000 units sold, with 12,000 units added in the last year alone. Were excited about the opportunity to meet the growing demand for our industry-leading solutions."
Xavier Garcia
General Manager, HP Printing Division
"Overall, HP Latex Printing Technologies provide a complete solution that helps us offer top-quality products, which is paramount because the images we print are very personal to customers"

Bakty Motiram-Barnett

Vendor Operations Manager, Snapfish
"We are preparing for the future thanks to HP Latex Printing technologies. We can target new higher-margin markets such as public buildings like schools and hospitals, where customers are sensitive to using eco-solvent ink output."

Louis Lim

Business Development Manager, Procomp Printset
"With HP Latex Inks, jobs get completed faster. We can start laminating the car the minute it rolls off the printer."

Tony Kendricks

Lead Installer, Panther Graphics
SPECIFICATIONS
Printing modes

50 m2/hr (538 ft2/hr) - Billboard (2 pass)
23 m2/hr (248 ft2/hr) - Outdoor HS (4 pass)
17 m2/hr (183 ft/hr) - Outdoor Plus (6 pass)
13 m2/hr (140 ft2/hr) - Indoor SQ (8 pass)
10 m2/hr (108 ft2/hr) - Indoor HQ (10 pass)
6 m2/hr (65 ft2/hr) - Backlit & Textiles (16 pass)
5 m2/hr (54 ft2/hr) - High Sat Textiles (2 pass)

Print resolution
Ink type
Ink Cartridges

Black, cyan, light cyan, light magenta, magenta, yellow, HP Latex Optimiser

Cartridge Size
Printheads

6 (2 cyan/black, 2 magenta/yellow, light cyan/light magenta, 1 HP Latex Optimizer)

Colour consistency

Average 1 dE2000, 95% of colours 2 dE2000

Media handling

Roll feed; take-up reel; automatic cutter (for vinyl, paper based media, backlit polyester film)

Media types

Banners, self-adhesive vinyls, films, papers, wallcoverings, canvas, synthetics, (fabrics, mesh, textiles and any other porous materials require a liner)

Roll size

254 to 1625mm (10 to 64 inches) rolls (580 to 1625-mm (23 to 64 inches) rolls with full support)

Roll weight
Roll diameter
Media thickness
Applications

Banners, Customizable clothing, Displays, Exhibition and event graphics, Exterior signage, Floor graphics, Indoor posters, Interior decoration, Labels and stickers, Light boxes - film, Light boxes - paper, POP/POS, Posters, Vehicle graphics, Wall decals, Window graphics

Connectivity

Gigabit Ethernet (1000Base-T)

Printer dimensions
Printer shipping dimensions
Printer weight
Shipping weight
Whats in the box (printer)

HP Latex 335 Printer, printheads, maintenance cartridge, printer stand, spindle, take-up reel, variable front tension kit, user maintenance kit, edge holders, quick reference guide, setup poster, power cords

Operating temperature
Operating humidity

20 to 80% RH (non-condensing)
Sound pressure

55 dB(A) (printing); 39 dB(A) (ready); < 15 dB(A) (sleep)

Sound power

7.4 B(A) (printing); 5.7 B(A) (ready); < 3.5 B(A) (sleep)

Power consumption

2.6 kW (printing); 72 watts (ready); < 2.5 watts (sleep)

Power requirements

Input voltage (auto ranging) 200-240 V (10%) two wires and PE; 50/60 Hz (3 Hz); two power cords; 3 A max per printer power cord; 16 A max per curing power cord

Safety certification

IEC 60950-1+A1+A2 compliant; USA and Canada (CSA listed); EU (LVD and EN 60950-1 compliant); Russia, Belarus, and Kazakhstan (EAC); Australia and New Zealand (RCM)C)

Electromagnetic certification

Compliant with Class A requirements, including: USA (FCC rules), Canada (ICES), EU (EMC Directive), Australia and New Zealand (RCM), Japan (VCCI)

Environmental certification

ENERGY STAR, WEEE, RoHS (EU, China, Korea, India, Ukraine, Turkey), REACH, EPEAT Bronze, OSHA, CE marking compliant

Printer warranty

One-year limited hardware warranty

Cut type

Drag-knife with TurboCut and Tangential emulation modes

Cut width
Cut speed

Up to 113 cm/sec (44 inches/sec) diagonal

Acceleration
Accuracy

0.2% of movement or 0.25mm, (0.01 inches) whichever is greater

Repeatability

+/- 0.1 mm (0.004 inches)

Cut force

0 to 600 grams of downforce, in 5-gram steps

Cut thickness

0.05 to 0.25 mm (0.002 to 0.01 inches); 0.8 mm (0.03 inches) with optional sandblast blades

Cutter connectivity
Cutter dimensions
Shipping dimensions
Cutter weight
Cutter shipping weight
Whats in the box

HP Latex 64 Plus Cutting Solution, cutter stand, HP FlexiPrint and Cut RIP, HP Cutter Control software, quick reference guide, setup poster, documentation software, power cords, standard holder (1), standard blades (2), cut-off knife (1), 3-in media flanges (set of 2)

Cutter warranty

One year, after the HP Latex End of Installation Registration is completed by an HP authorised reseller
Copyright © 2013-2017 Magento, Inc. All rights reserved.