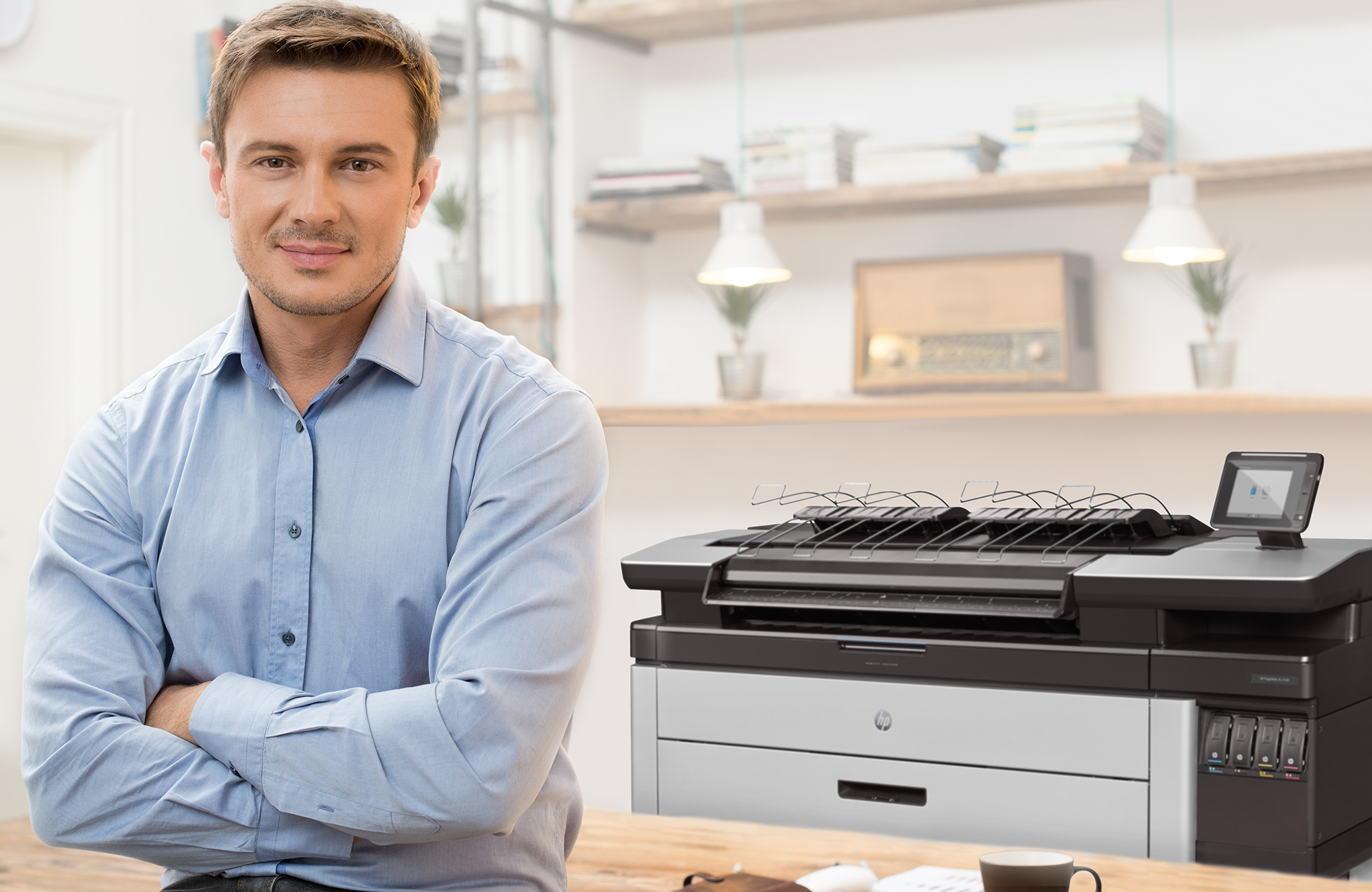 A NEW ERA IN LOW COST PRINT PRODUCTION
HP PageWide XL 4100 Series Printer
Experience the new era in low cost print production with the HP PageWide XL 4100 multi-function printer. It's robust and compact design and incredibly low running costs makes it suitable for the most demanding of print environments.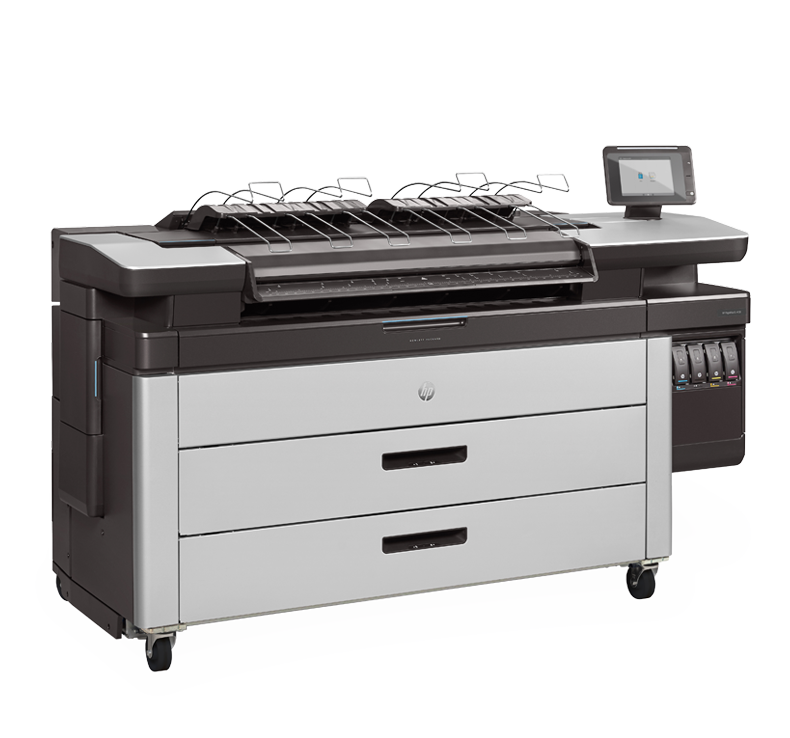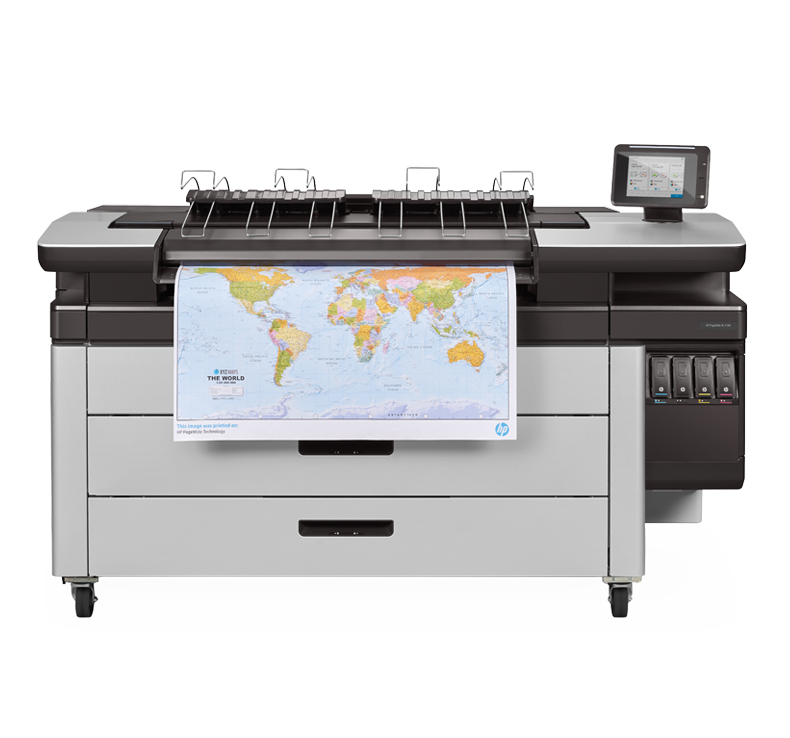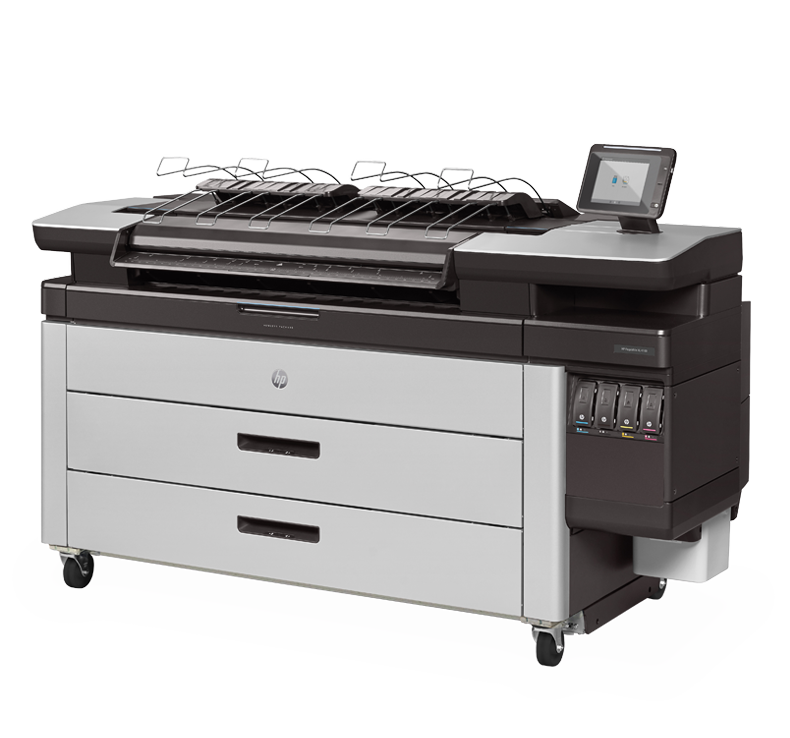 True production printing
Built to produce high-quality prints at a much lower cost than conventional LED printers, the PageWide XL 4100 series provides true production-level printing at blistering speeds of up to 10 A1 prints per minute.
Smart switching dual or quad roll feed
Print speeds of up to 10 A1 prints per minute
Integrated 100 sheet output stacker
4 Colour (C,M,Y,K) Dye & Pigment Ink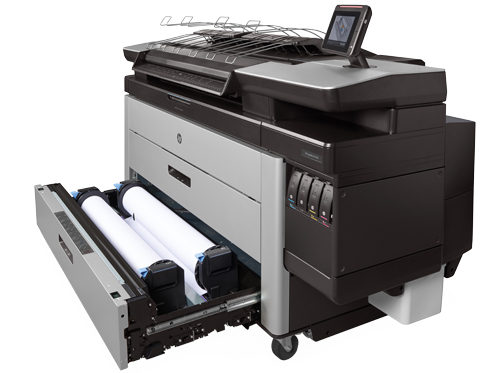 Easy & intuitive operation
The high-resolution touchscreen interface provides simple, intuitive operation of this multi-function device.
High-resolution 8 inch touchscreen interface
Print direct from USB stick
Share jobs seamlessly in the cloud
Robust and compact design
A better choice for the environment
Using half the energy per page compared to equivalent LED printers and producing no ozone the PageWide XL 4100 series is the better choice for both your office and the environment.
Low power consumption
Environmentally friendly
Secure user authentication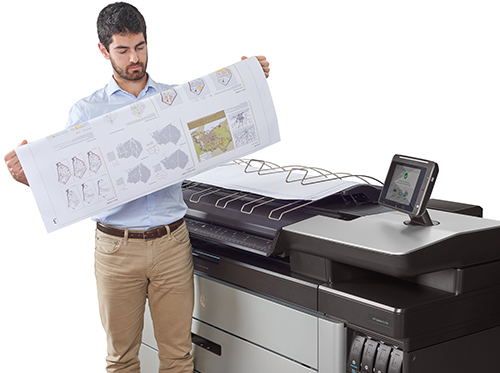 Advanced scanning features
Copy and scan quickly with advanced features and efficient workflow tools such as batch scanning, automatic background removal, multi-page PDFs and automated quicksets.
1200dpi optical scanning resolution
Scan speeds of 3 inches per second (200dpi colour)
CIS scanning technology
Dedicated Intel Core i3 processor
AWARDS / REVIEWS
Our large-format printing customers are continually exploring ways to improve productivity, streamline workflow and reduce costs.HP PageWide XL Printers deliver what our customers have been seeking for years andwillrevolutionize the production printing market, offeringaffordable, high-quality black-and-white and colour output in a single device at the fastest speeds available.
Senior Vice President
HP Large Format Design Printing.
The debut of the new HP PageWide XL printer range is another giant leap on HP's journey to offer continued innovation in large format printing for the designers of the future.The breakthrough PageWide XL platform will help our customers move the needle for business with immediate monochrome and colour prints delivered from one unique printer.
Guayente Sanmartn
General Manager and Global Head, HP Large Format Design Printing.
SPECIFICATIONS
General

Models Available
Large Format Printer or Multi-function Printer
Technology
HP PageWide Technology
Applications
Line drawings, Maps, Orthophotos, Posters
Ink Types
Pigment-based (Cyan, Magenta, Yellow, Black)
Ink Cartridges
4 (400ml per colour)
Printheads
8 x HP 841 PageWide XL Printheads
Average printhead life
32 litres
Printhead warranty
10 litres or 12 months from installation
Print Resolution
1200 x 1200 dpi
Minimum line width
0.02mm (HP-GL/2 addressable)
Guaranteed minimum line width
0.085mm
Line accuracy
+/- 0.1%

Print Speed

A1/Arch D/ANSI D (long edge first)
10 pages/min (15 pages/min with optional speed upgrade)
Warm-up time
No warm up
First page out
30 seconds (from ready mode)

Media

Media rolls
2 rolls default with auto-switching, expandable to 4 rolls with additional media drawer
Roll width
279mm to 1016mm
Roll length
Up to 200m
Roll Diameter
Up to 177mm
Roll core diameter
76mm
Media weight
70 to 200gsm
Media thickness
Up to 15.7ml
Up to 0.4mm
Media types
Bond and coated paper (bond, coated, heavyweight coated, super heavyweight plus matte, coloured), technical paper (natural tracing, translucent bond, vellum), film (clear, matte, polyester), photographic paper (satin, gloss, semi-gloss, matte, high-gloss), backlit film
Media output
Standard: Top stacker
Optional: High capacity stacker, online folder (only compatible in conjunction with the optional HP PageWide XL 4x00 accessory upgrade kit)

Scanner

Description
910mm CIS scanner
Speed
Colour: Up to 76.2mm/sec
Greyscale: Up to 254mm/sec
Optional resolution
1200dpi
Scan width
Up to 914mm
Original thickness
Up to 0.26mm
Maximum copy length
9.5 meters
Maximum scan length
18 meters (TIFF)
8 meters (JPG)
5 meters (PDF)
Scan format
Standard: JPEG, TIF
Optional: PDF 1.4, Multi-page PDF 1.4 (with Postscript/PDF upgrade)
Scan features
Preview with cropping, scan quicksets, batch scanning
Scan destination
USB, network folder (SMB), scan to email, scan to HP SmartStream software, scan to FTP

Embedded controller

Processor
Intel Core i3
Memory
8GB DDR
Hard drive
1 x 500 GB HDD, self-encrypted with AES-256
Print languages
Standard: HP-GL/2, TIFF, JPEG
Optional: Adobe PostScript 3, Adobe PDF 1.7 (with PS/PDF upgrade)
Remote management
HP Partner Link, HP Embedded Web Server, HP Web Jetadmin
Security features

Security features


HP Secure Boot, Whitelisting, TPM, Role-Based Access Control, LDAP and Kerberos authentication, SNMPv3, HTTPS, Secure-IPP, IPsec/Firewall, Certificates management, 802.1X, TLS 1.0/1.1/1.2, HP Web Jetadmin compatible, HP JetAdvantage Security Manager compatible, Secure Disk erase (DoD 5220.22-M), Secure File erase, self-encrypting HDD, encrypted PIN printing, Syslog security logging

Connectivity

Interfaces
TCP/IP, BootP/DHCP, USB 2.0 host (certified)
Drivers
HP SmartStream software (optional), HP Click printing software, HP Universal Print Driver (HP-GL/2 and PS), HP PageWide XL print drivers (PDF, HP-GL/2, and PS)

User interface

User Interface
203mm (8 inch) capacitive high-resolution touchscreen

Dimensions (W x D x H)

Printer
Printer: 1960mm x 800mm x 1303mm
MFP: 1960mm x 864mm x 1303mm
Shipping
Printer: 2180mm x 1068mm x 1764mm
MFP: 2180mm x 1068mm x 1764mm

Weight

Printer
Printer: 415kg
MFP: 430kg
Shipping
Printer: 521kg
MFP: 546kg

Environmental

Operating temperature
5 to 40C
Operating humidity
20 to 80% RH, depending on media type

Acoustics

Sound pressure
Printing: 58 dB(A); Ready: 35 dB(A); Sleep: 16 dB(A)
Sound power
Printing: 7.6 B(A); Ready: 5.2 B(A); Sleep: 4.2 B(A)

Power

Consumption
0.4 kW (typical); 0.7 kW (max printing); 108.4 W (ready); < 1 W (< 4.6 W with embedded Digital Front End) (sleep)
Requirements
Input voltage (auto-ranging) 100-127/200-240 V (10%), 50/60 Hz (3 Hz), 7/3.5 A

Certification

Safety
IEC 60950-1+A1+A2 compliant; EU (LVD and EN 60950-1 compliant); Russia, Belarus, and Kazakhstan (EAC)
Electromagnetic
Compliant with Class A requirements, including: EU (EMC Directive)
Environmental
ENERGY STAR, EPEAT Silver, CE marking (including RoHS, WEEE, REACH). In compliance with WW RoHS materials restriction requirements in Turkey, Serbia, and Ukraine

Warranty

90 days.

Warranty and support options vary by product, country and local legal requirements.
Copyright © 2013-2017 Magento, Inc. All rights reserved.