MAKING ACCURATE CUTTING EASIER THAN EVER BEFORE
Keencut Evolution 3 Cutter Bar
Keencut's Evolution 3 sets new quality and performance standards for manual cutting machines, making accurate cutting easier than ever before. The revolutionary design combines the very latest engineering developments with high production standards to guarantee highly precise cutting time after time.
Innovative multi-tool design
The new QuikSwap tool heads give the Evolution 3 a degree of customisation unmatched by any other cutter. Each QuikSwap head is designed for a specific purpose such as general cutting, creasing or fabric cutting. The tools heads can be simply attached or removed from the cutter in seconds, ensuring easy of use and improved productivity. Keencut is also continuing to develop new tools to make the Evolution 3 a truly future-proof cutting solution.
Twin grafik cutter
Fabric cutter
Creasing tool
Rocker cutter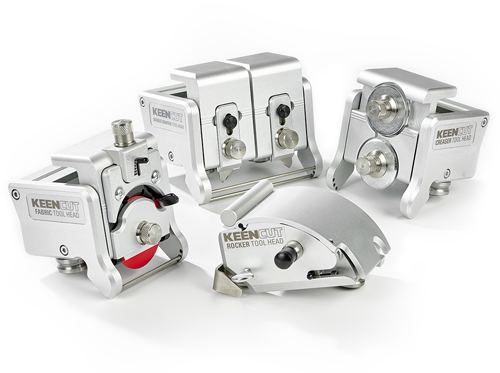 Available in six practical sizes
Available in six practical sizes, from 1.1 to 3.6 metres, the Evolution 3 has been created to handle the output of every size and type of roll feed or flatbed printer with the capability to cut and crease materials as diverse as flag, card, banner, PVC foamboard, foam core and much much more.
1100mm cutting length
1600mm cutting length
2100mm cutting length
2600mm cutting length
3100mm cutting length
3600mm cutting length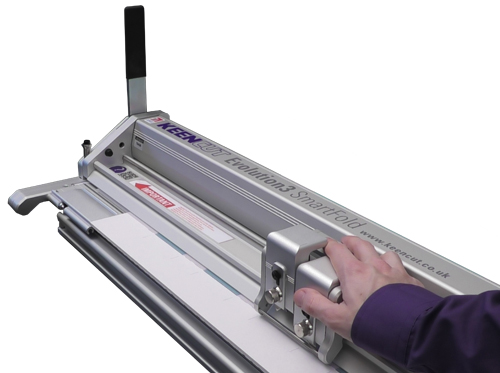 Single user operation
The Evolution 3 features Keencut's unique life and hover (patent pending) technology which enables single-handed, fast and accurate alignment of all media irrespective of its thickness. A clutch device within the lift and hover system enables the clamping bar to be held just millimeters above the materials surface making the positioning of materials quick and easy.
Single operator
Integral lift and hold mechanism
Integral flip stops
to hold dense material securely
Anti sag
mechanism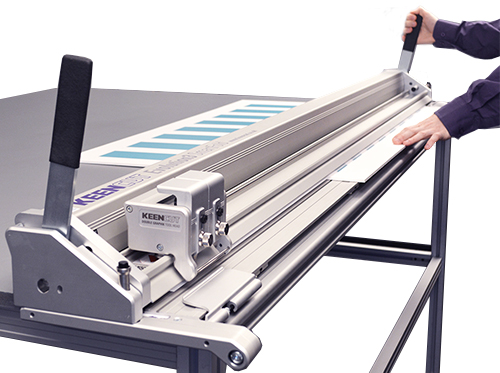 Three different designs
The Evolution 3 cutter bar has been created in three different designs to meet both the production environment and application it is needed for. The SmartFold can be stowed underneath a workbench when not in use freeing up valuable workspace, the BenchTop version attaches to a work surface for fixed production areas, and the FreeHand version provides a highly portable cutter bar for greater flexibility.
Evolution E3 SmartFold
Evolution E3 BenchTop
Evolution E3 FreeHand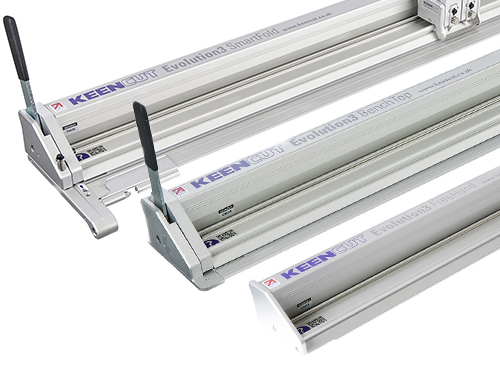 AWARDS / REVIEWS
The Evolution3 allows us to increase throughput. We complete more work and as such it has a direct and positive impact on our business. Its very, very simple to use and it makes a massive difference to our productivity. I would estimate that it saves us about 10% of production time. The new Lift-and-Hover technology saves us a lot of time. Once the clamp is fully down there is no movement at any point. You do not need to hold onto the handle so you have both hands free to work. The plastic sightline strip is really important, especially when cutting longer pieces of material. You can clearly see the crop marks through the strip so you can very quickly and accurately align the material ready for cutting.
John Williker
JDP Solutions
This product allows us to function with greater efficiency. The design of the cutter and its interchangeable blades supply precision cutting for a variety of products. We are very impressed with our Keencut table and cutter. It has enabled us to deliver a clean and accurately cut product to our clients. This table and its abilities has allowed us to enhance our methods, while maintaining and increasing customer satisfaction.
Tom Szychowicz
Mobile Outreach Solutions
We are extremely happy with this table cutter. The 140+ length allows us to trim large banners and wallgraphics with ease when we would normally have to trim them by hand. I wanted to build a giant production table and this cutter was the only one on the market that would accommodate the size I needed. The cutter is extremely easy to use and new shop employees master it within hours of first using it. We chose this product for the length of cut, quality of the product and easy change out from regular duty blades to heavy duty blades. Its built extremely well and has lasted for years without any issues.
Peter DiSpiito
Blazing Visuals
SPECIFICATIONS
Maximum cutting length

Evolution 3 FreeHand
E3H110 - 1100mm
E3H160 - 1600mm
E3H210 - 2100mm
E3H260 - 2600mm
E3H310 - 3100mm
Evolution 3 BenchTop
E3BT110 - 1100mm
E3BT160 - 1600mm
E3BT210 - 2100mm
E3BT260 - 2600mm
E3BT310 - 3100mm
E3BT360 - 3600mm
Evolution 3 SmartFold
E3SF110 - 1100mm
E3SF160 - 1600mm
E3SF210 - 2100mm
E3SF260 - 2600mm
E3SF310 - 3100mm
E3SF360 - 3600mm

Cutting capability

Cast Acylic (score) - up to 6mm **
Cast Plexiglass (score) - up to 3mm **
Cardboard - up to 13mm
Conservation Board - up to 3.5mm
Corrugated Plastic - up to 13mm
Foam Centered Board - up to 13mm
Mountboard - up to 3.5mm
PVC Foamboard (Forex) - up to 13mm
Magnetic Sheet - up to 1mm
Banner Fabric Textiles (Cold Cut)
Fabric Textiles (Hot Cut)
Plastic Film (X-Ray, Light Filters) *
Window Film (Self Adhesive)
Paper Pop Up Banner Displays
Self Adhesive Materials
Tissue Paper
Flexo Graphic Plates - up to 13mm **
Aluminum composite panel - up to 3mm **

* Optional accessory needed for this application
** Rocker tool cutting head only



Creasing capability

Stout Paper
Card
Cardboard
Gray board

Available cutting tools

Double graphik tool head
Fabric tool head
Creaser tool head
Rocker tool head
Packaging dimensions

Evolution 3 FreeHand
E3H110 - 1540mm x 350mm x 170mm
E3H160 - 2040mm x 350mm x 170mm
E3H210 - 2540mm x 350mm x 170mm
E3H260 - 3040mm x 350mm x 170mm
E3H310 - 3540mm x 350mm x 170mm
Evolution 3 BenchTop
E3BT110 - 1600mm x 350mm x 70mm
E3BT160 - 2100mm x 350mm x 170mm
E3BT210 - 2600mm x 350mm x 170mm
E3BT260 - 3100mm x 350mm x 170mm
E3BT310 - 3600mm x 350mm x 170mm
E3BT360 - 4100mm x 350mm x 170mm
Evolution 3 SmartFold
E3SF110 - 1600mm x 350mm x 170mm
E3SF160 - 2100mm x 350mm x 170mm
E3SF210 - 2600mm x 350mm x 170mm
E3SF260 - 3100mm x 350mm x 170mm
E3SF310 - 3600mm x 350mm x 170mm
E3SF360 - 4100mm x 350mm x 170mm

Packaging weight

Evolution 3 FreeHand
E3H110 - 23kg
E3H160 - 29kg
E3H210 - 34kg
E3H260 - 40kg
E3H310 - 46kg
Evolution 3 BenchTop
E3BT110 - 28kg
E3BT160 - 35kg
E3BT210 - 43kg
E3BT260 - 51kg
E3BT310 - 57kg
E3BT360 - 63kg
Evolution 3 SmartFold
E3SF110 - 31kg
E3SF160 - 38kg
E3SF210 - 47kg
E3SF260 - 54kg
E3SF310 - 63kg
E3SF360 - 72kg
Copyright © 2013-present Magento, Inc. All rights reserved.