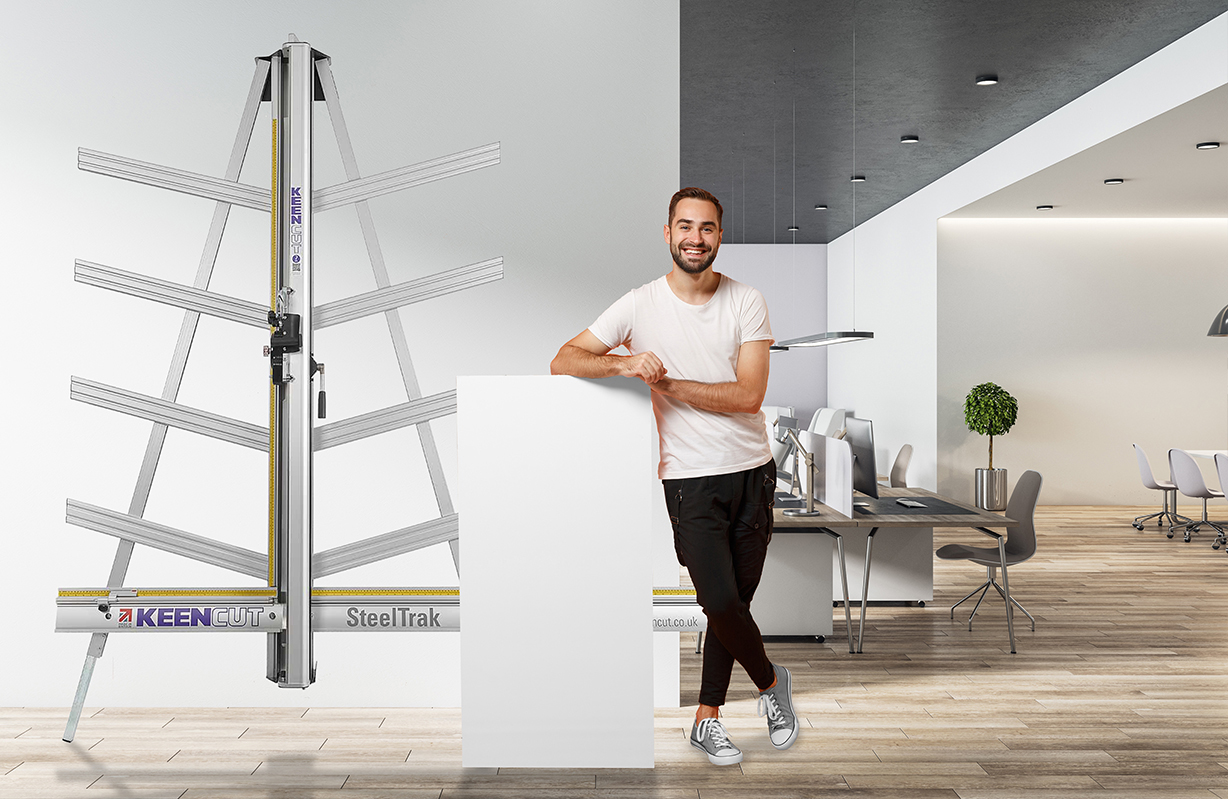 DESIGNED FOR THE MODERN SIGNMAKER
Keencut SteelTraK Cutter
Keencut SteelTrak vertical substrate cutters are developed specifically for the tougher and thicker rigid and semi-rigid substrates used in today's sign making market. With a cut length option of 65", 82" or 98", SteelTrak Cutters are the most accurate and easiest-to-use manual vertical cutters available today.
Precise and accurate cutting
Full-length, extra-grip clamps secure the material for cutting for ultra-precise cutting that leaves no marks even on pre-printed surfaces.
Perma-lock squaring for accurate cutting every time
Same cut line for each tool
Telescopic legs for user customisation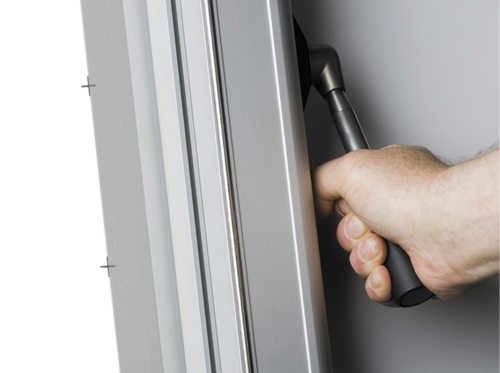 Multi-function cutting head
Multi-functional counterbalanced cutting head allows you to choose from up to four tools, simply turn and lock pre-mounted tools for instant cutting action with auto-blade disengagement at the end of the cut.
Straightline board cutting up to 13mm thick
Acrylic scoring for cast acrylic and plexiglass up to 6mm thick
Twin wheel cutting head for ACP cutting up to 4mm thick
Glass cutting up to 6mm thick (with optional cutting kit)
Ultra-smooth operation
Pre-lubricated ball bearing track enables precise, low friction cutting and years of trouble free life without adjustment and are guaranteed for 20 years operation.
5 year comprehensive guarantee
20 year comprehensive guarantee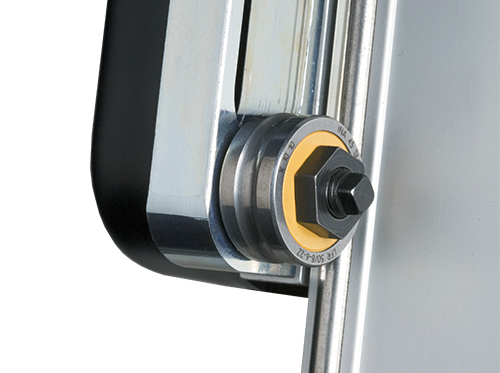 AWARDS / REVIEWS
We purchased both a SteelTrak and an Evolution E2 from Foster (Keencuts main US distributor) several years ago. We use both machines primarily to cut corrugated and light weight signage materials either for pre-cutting (before printing) or post cutting (final trimming). We were drawn to these products based on their quality compared to others available in the market place and are very satisfied with the products mainly because they are very easy to use. In addition, they are a safe alternative which protects employees from unnecessary risks associated with hand cutting of print media. Worker safety is a major objective in our company and these products support this well.
Gary Nelson
Rand Whitney
The addition of Keencut products to our one-stop digital and screen printing shop has made a huge impact. The SteelTraK is easy-to-use and cuts signs perfectly every time. Its wall-mounted option saves us space as well. We started with an Excalibur, later adding the SteelTraK to our production line, making us that much more efficient.
Jonathan Bauer
Digital & Screen Print Production Manager, Voss Signs
SPECIFICATIONS
Maximum cutting length

ST165 - 2440mm x 2130mm
ST210 - 2880mm x 2130mm
ST250 - 3260mm x 2220mm

Cutting capability

Cast Acylic (score) - up to 6mm thick
Cast Plexiglass (score) - up to 3mm thick
Aluminium Sheet - up to 1mm thick
Aluminium Composite - up to 4mm thick
MDF - up to 3mm thick
Glass - up to 3.5mm thick (optional upgrade)
Cardboard - up to 13mm thick
Conservation Board - up to 3.5mm thick
Corrugated Plastic - up to 13mm thick
Foam Centered Board - up to 13mm thick
Expanded Polystyrene - up to 13mm thick
PVC Foamboard (Forex) - up to 13mm thick
Magnetic Sheet - up to 1mm thick
PETG - up to 3mm thick
Packaging dimensions

ST165 - 2330mm x 460mm x 350mm
ST210 - 2800mm x 460mm x 350mm
ST250 - 3280mm x 270mm x 360mm

Packaging weight

ST165 - 75kg
ST210 - 94kg
ST250 - 110kg

Included in box

SteelTraK Rigid Subtrate Cutter/Universal 4 Tool Cutting Head/Wall Mounting Bracket/Sightline Strips/Clamping System/Aluminium Composite Cutting Head/Medium Duty Blades x 100

Optional accessories

V Groove Tool/Free Standing Kit/Glass Cuttting Kit/Aluminium Cutting Head/Squaring Arm Extension
Copyright © 2013-present Magento, Inc. All rights reserved.