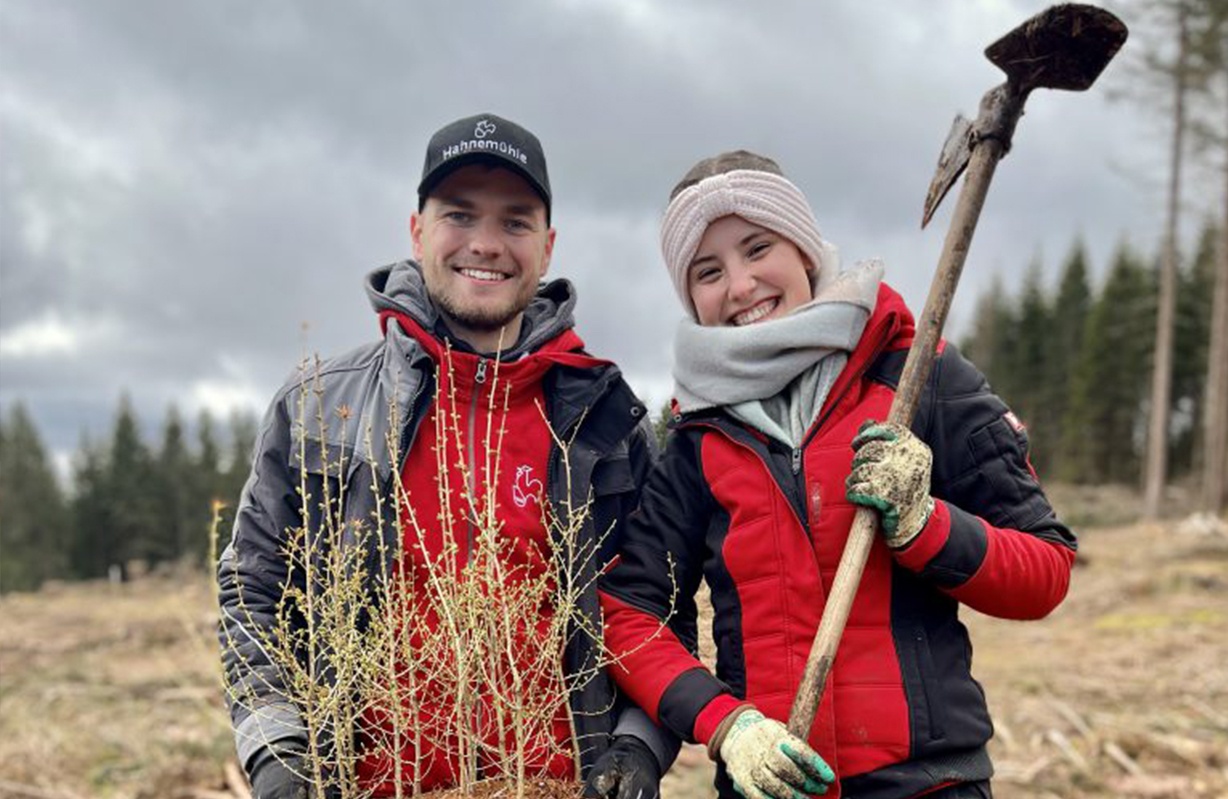 2000 trees were planted by Hahnemuhle trainees and 70 volunteers in one day for World Earth Day 2022.  In total, Hahnemuhle are planting 6000 Green Rooster trees with the "Bergwaldproject - Mountain Forest Project" in the Harz mountains - near Hahnemuhle's company headquarters.
With Hahnemuhle 'Green Rooster' initiative which is unique in the paper industry we partnered this year with the oldest German and internationally recognised forest conservation project.  Under the motto 'Planting up against climate change' Hahnemuhle plat native rtees such as sycamore maple and larch.
The plantings are essential for erosion control, as drinking water reserviors, for bio diversity and for cooling the landscape.  In 40-60 years, the resulting stable mixed forests will also resume their important function as CO2 reservoirs.  We believe that is a genuinely meaningful and future-oriented action to make the Harz a green lung again.  The tree planting project is part of our Hahnemuhle's apprentice academy and will plant even more trees in the future.
Hahnemuhle teamed up with the tree planting initiative which has been working since 1993 to protect, preserve and care for the forest and to promote and to promote understanding of the interrelationships in nature.  The aim is to encourage a broad public to use natural resources in a nature-friendly way through the voluntary work in the forest eco-systems.  "Bergwaldprojekt - Mountain Forest Project" is internationally recognised and is Gold Standard certified climate projection projects.  Find more information on Hahnemuhle's Green Rooster initiative at hahnemuhle.com and on Berwaldprojekt - Mountain Forest project at www.berwaldprojekt.de.
---
About Hahnemuhle
Hahnemuhle FineArt has been producing paper since 1584. Today's portfolio includes traditional and digital FineArt paper for painting and all types of printing techniques as well as stationery products. The customised production of high-purity papers for life science applications and speciality papers are also part of the manufacturing portfolio
All paper grades are produced according to old recipes from high-quality cotton fibres, cellulose or fast-growing plant fibres and pure spring water. They have best-in-class quality characteristics and are highly resistant to ageing. Hahnemuhle has an excellent reputation worldwide as German "Brand of the Century". Its products are available in more than 130 countries worldwide.
The company has its headquarters in Dassel in southern Lower Saxony and subsidiaries in Great Britain, France, USA, Singapore and China.
With its "Green Rooster" initiative, Hahnemuhle has been supporting environmental protection projects worldwide since 2008, including reforestation, animal welfare and environmental education programmes. The long-established company produces papers in a landscape conservation area under strict environmental regulations and with its sustainable paper production, makes an important contribution to environmental and climate protection.