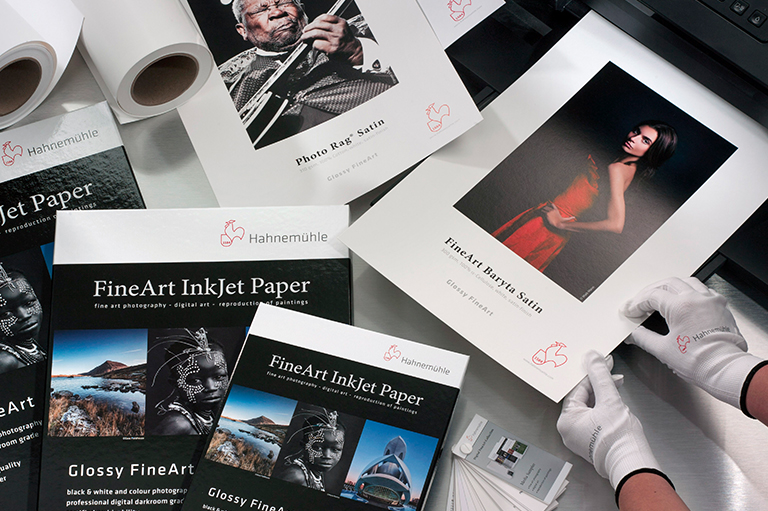 What makes a printed artwork unique? The exclusive look and feel of genuine fine art paper. High-quality artist papers for archival inkjet printing are papers with noticeable attributes, and beautiful structures. The paper becomes a part of the artwork; because a well-chosen fine art paper can really accentuate a work of art. At the end of a creative process, the printing and presentation of a photograph or reproduction as a luxury print is something to experience – whether in a frame on the wall at home, in an album, as a portfolio for commissioning, sales to collectors or on show at a gallery – every picture deserves the best presentation including protection and authentication.
Three things that will make your fine art print flawless:
Age-resistant Hahnemühle Inkjet Paper,
Hahnemühle Protective Spray
A Hahnemühle Certificate of Authenticity with Holograms.
First: Print!
Print only with certified, archival, pigmented inks on the highest quality paper! All Hahnemühle FineArt papers are strictly tested for their aging resistance, and last for generations. For the perfect combination of paper and inks, Hahnemühle provides free ICC printing profiles for calibrated and reproducible printing at any time. Special questions regarding printer settings and ink/paper combinations can be answered by our Hahnemühle Technical Support Team.
Second: Protect!
Your artwork needs proper protection against scratches and environmental influences. Hahnemühle's Protective Spray is an aerosol spray that lays like a fine film on the paper, without changing the paper structure. It fixes colours of pigment and dye inks and prevents gradual colour fading. The intensity and high brilliance of the colours stay permanently. The coating increases the abrasion resistance of Fine Art papers, so the risk of fingerprint marks and scratches are reduced. The formulation is fast drying and yellowing of the print (due to the spray) is not possible.
Third: Authenticate!
You´d like to highlight the value of your pictures to gallery owners and collectors? Than have a try with Hahnemühle´s Certificate of Authenticity. Each certificate consists of genuine mould-made paper and two identical numbered holograms. Apply one on the back of your artwork, the other to the customised Certificate of Authenticity.
For artist and curator Jörg Karrenbauer, fine art printing is a perfect triangle: "My conceptual photography is printed on either one of my favourite papers, the archival FineArt Baryta or FineArt Pearl. For album or portfolio box presentations I protect the prints with Protective Spray. My individually designed Certificates of Authenticity work together with my personal embossing, signifying the value of my work to collectors, galleries or museums."
Each certified work of art can be registered with the corresponding certificate number on www.myartregistry.com.
Ask for our 'Protection Products' for exclusive FineArt prints when you buy your Hahnemühle papers!
Hahnemühle Protective Spray
Hahnemühle Varnish
Hahnemühle Certificate of Authenticity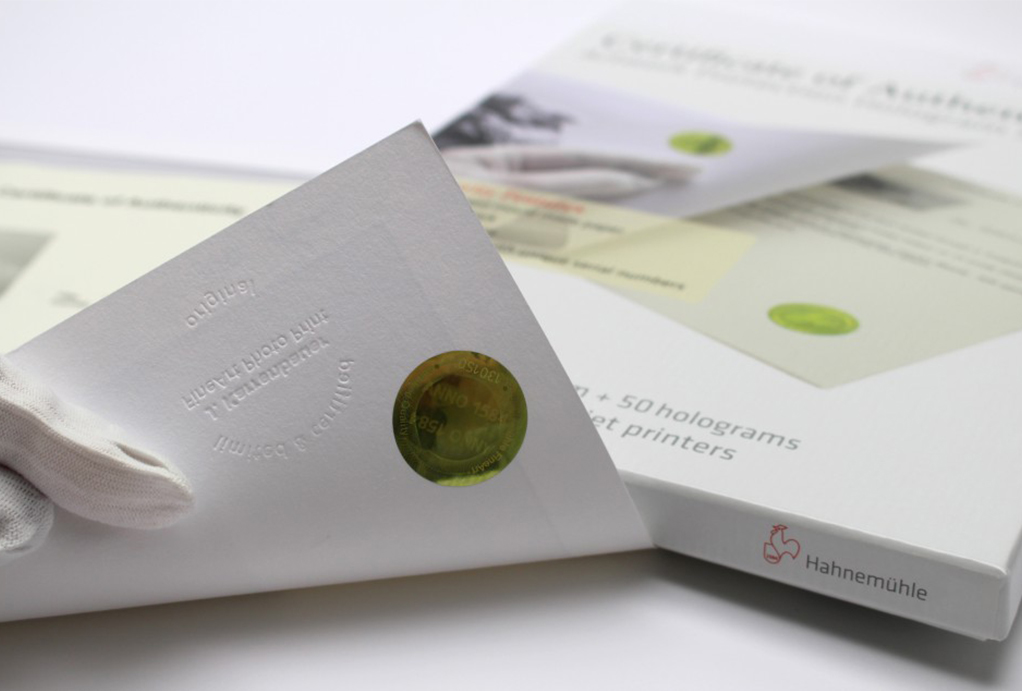 ---
About Hahnemühle
Many companies claim to be steeped in tradition. But finding a company that is more entitled than us – the paper manufacturer Hahnemühle, founded back in 1584 in Dassel, Germany – to boast this embodiment of reliability, experience and quality will be extremely difficult.
What initially began with handmade writing paper later was complemented by art paper and more recently, the papers for the digital FineArt inkjet print that have been invented by us. Meanwhile, our traditional artist papers still are manufactured according to old recipes from high-quality cellulose and pure spring water. Our paper technologists also are reliable partners for artists, technicians and scientists when it comes to new applications in the artist market and the industry area.
We manufacture exactly according to the requirements of our customers while developing products for new market segments at the same time. Our motto always has been 'Quality instead of Quantity'. With an annual production of just 3,000 tonnes, we rather regard ourselves as manufacture than a factory.  Hahnemühle today employs approximately 180 people worldwide and has subsidiaries in the UK, France, the USA and China. The production, however, has taken place for more than 430 years at the same location – at the highest quality level with innovation spirit and strong tradition.
Read more ...