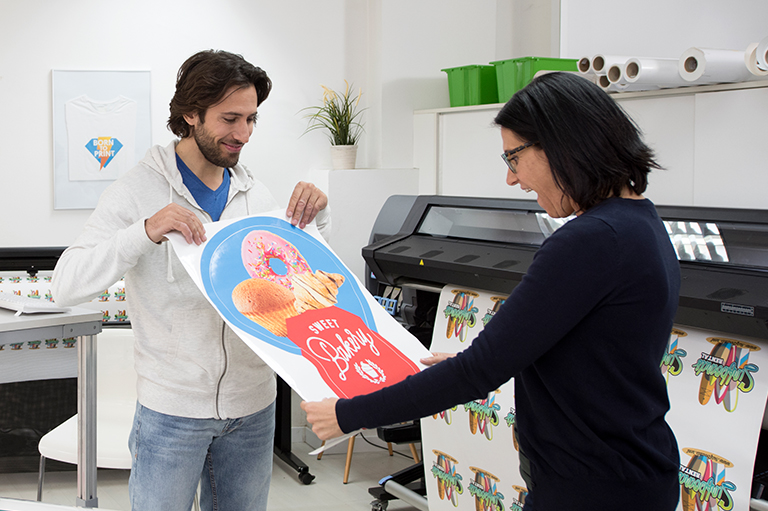 HP Inc. today announced the new HP Latex 115 Printer, offering the most economical entry point into sign and display printing services using high-quality, water-based HP Latex technology. The HP Latex 115 model is also available in the Print and Cut series, providing an end-to-end HP solution for printing and cutting.
The new 54-inch HP Latex 115 Printer delivers stunning results with high image quality across a wide range of applications for indoor and outdoor signage.
HP Latex 115 Print and Cut also provides an end-to-end solution for producing applications such as labels, decals, stickers, customizable clothing, window graphics, and many more applications. The dual-device solution delivers simultaneous and continuous printing and cutting in a single, integrated workflow. HP Latex Print and Cut solutions were launched earlier this year on the HP Latex 300 series.
"The introduction of the HP Latex 115 products expands the HP market-leading portfolio of HP Latex printers with an attractive entry price point, making it easier than ever for newcomers to large format, small sign shops or copy shops willing to start or bring their business to the next level, and experience the benefits of water-based Latex printing technology," said Joan Pérez Pericot, General Manager, HP Large Format Graphics Business, HP Inc.
Additionally, the printers enjoy seamless integration with HP Signage Suite and HP WallArt in the in the HP Applications Center, free online solutions for simple web-based, design and ordering of large-format jobs 24/7.
Today, HP also announced new applications available in the HP Signage Suite for creating and ordering jobs for floor graphics, window graphics, vehicle graphics, and magnets.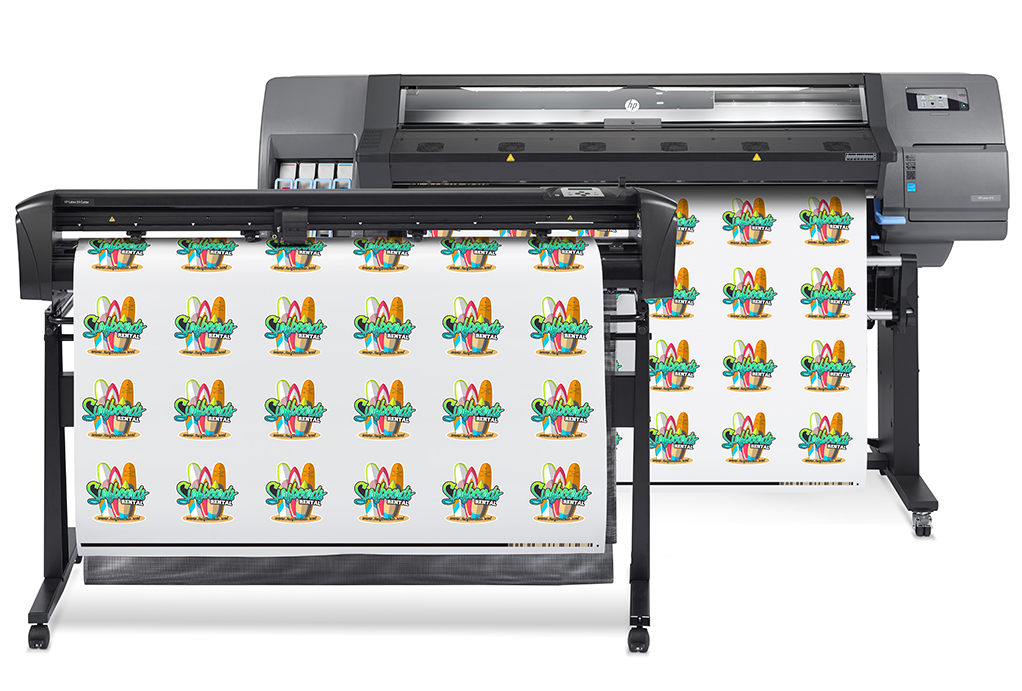 The new HP Latex 115 printer offers:
Easy, intuitive operation, with automatic maintenance as well as an X-Axis cutter
Prints that come out dry, odourless and ready for same day finishing and delivery thanks to water-based HP Latex technology
High-quality production with high-resolution prints delivered by up to 1200 native dpi across a range of applications
Six-Colour printing for high image quality and smooth transitions
The new HP Latex 115 Print and Cut solution offers additional features:
HP Latex Basic Cutter with HP barcode and Optical Positioning System (OPOS) for fast job recognition and reliable cutting
Unique HP FlexiPrint and Cut RIP for optimized workflow management from a single point and with barcode integration
Availability1
HP 115 Printers and HP 115 print and cut solutions are not available in all regions. They are scheduled to be available in October for selected countries in the Americas and EMEA, as well as Australia.
HP Latex portfolio
HP Latex printers deliver high image quality, productivity and durability, as well as environmental benefits and industry certifications. HP Latex printers help a range of customers, from small sign and copy shops to high-capacity PSPs, to affordability print a range of applications with no drying time for fast turnaround and installation. The complete portfolio includes.
HP Latex 315 series printers: the HP Latex 315, 335 and 365 printers deliver high image quality, productivity and durability at high speed for same day delivery
HP Latex 315 and 335 print and cut solutions: for high capacity printing and cutting
HP Latex 560 and 570 printers: help customers manage a variety of high quality print jobs and last-minute high-volume peaks in production at a low upfront investment
HP Latex 1500 series printers: offers a robust, affordable solution for high quality super-wide indoor and outdoor applications
HP Latex 3200 and 3600 series printers: are ideal for high-volume, high-quality application production, enabling unattended operation as a single operator can manage up to four printers simultaneously.
---
The HP Latex 115 Printer and HP Latex 115 Cut and Print solution will not be immediately available in all countries.
Forward-Looking Statements
This news release contains forward-looking statements that involve risks, uncertainties and assumptions. If the risks or uncertainties ever materialize or the assumptions prove incorrect, the results of HP Inc. and its consolidated subsidiaries ("HP") may differ materially from those expressed or implied by such forward-looking statements and assumptions.
All statements other than statements of historical fact are statements that could be deemed forward-looking statements, including but not limited to any projections of net revenue, margins, expenses, effective tax rates, net earnings, net earnings per share, cash flows, benefit plan funding, deferred tax assets, share repurchases, currency exchange rates or other financial items; any projections of the amount, timing or impact of cost savings or restructuring and other charges; any statements of the plans, strategies and objectives of management for future operations, including the execution of restructuring plans and any resulting cost savings, revenue or profitability improvements; any statements concerning the expected development, performance, market share or competitive performance relating to products or services; any statements regarding current or future macroeconomic trends or events and the impact of those trends and events on HP and its financial performance; any statements regarding pending investigations, claims or disputes; any statements of expectation or belief; and any statements of assumptions underlying any of the foregoing.
Risk, uncertainties and assumptions include the need to address the many challenges facing HP's businesses; the competitive pressures faced by HP's businesses; risks associated with executing HP's strategy; the impact of macroeconomic and geopolitical trends and events; the need to manage third-party suppliers and the distribution of HP's products and the delivery of HP's services effectively; the protection of HP's intellectual property assets, including intellectual property licensed from third parties; risks associated with HP's international operations; the development and transition of new products and services and the enhancement of existing products and services to meet customer needs and respond to emerging technological trends; the execution and performance of contracts by HP and its suppliers, customers, clients and partners; the hiring and retention of key employees; integration and other risks associated with business combination and investment transactions; the results of the restructuring plans, including estimates and assumptions related to the cost (including any possible disruption of HP's business) and the anticipated benefits of the restructuring plans; the resolution of pending investigations, claims and disputes; and other risks that are described in HP's Annual Report on Form 10-K for the fiscal year ended October 31, 2015, HP's Quarterly Reports on Form 10-Q for the fiscal quarters ended January 31, 2016, April 30, 2016 and July 31, 2016, and HP's other filings with the Securities and Exchange Commission. HP assumes no obligation and does not intend to update these forward-looking statements. HP's Investor Relations website at http://www.hp.com/investor/home contains a significant amount of information about HP, including financial and other information for investors. HP encourages investors to visit its website from time to time, as information is updated and new information is posted.
Posted:
September 25, 2017
|
Read more ...