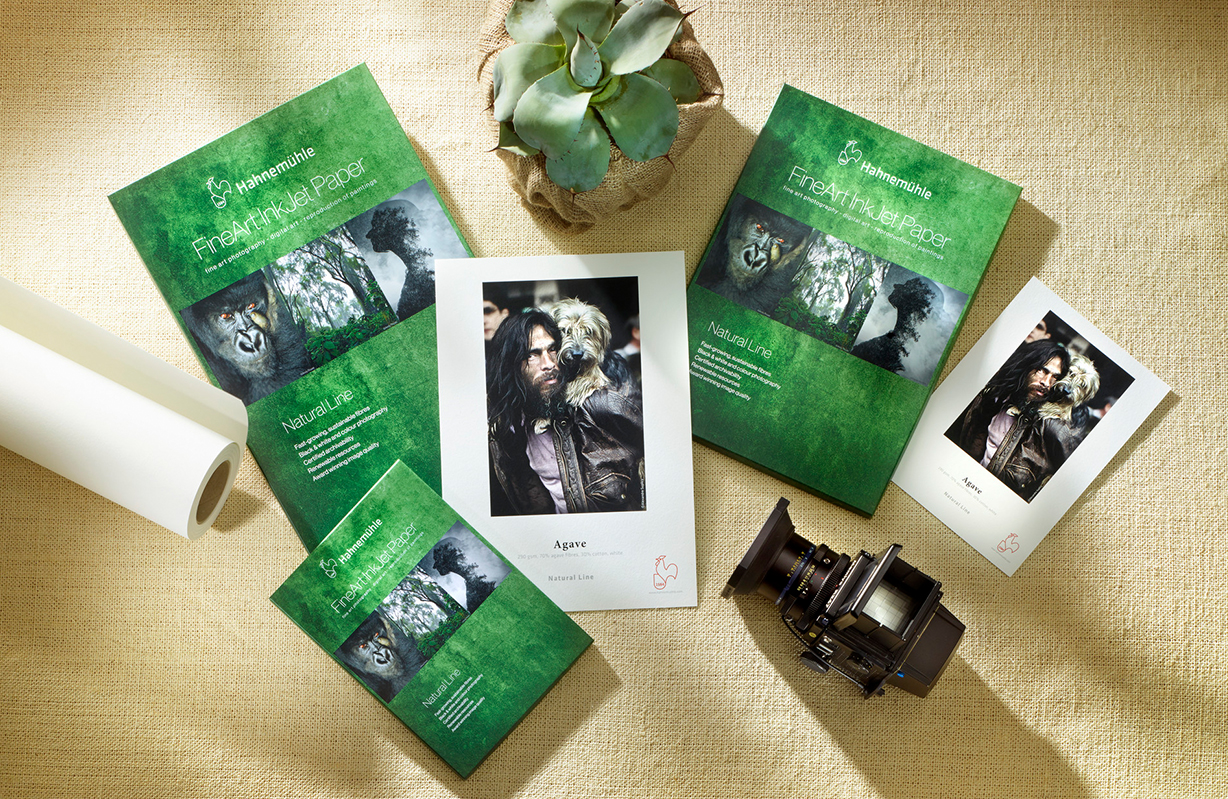 Hahnemühle is delighted that this year not only one FineArt inkjet paper from its collection has won a TIPA World Award, But three!   With the Hahnemühle Natural Line and the paper grades, Hahnemühle Bamboo, Hahnemühle Hemp, and Hahnemühle Agave the inventor of Digital FineArt Inkjet papers has once again succeeded in convincing the Technical Press Imaging Association - in short: TIPA.  All three papers of the Hahnemühle Natural Line are awarded the TIPA World Award 2020 in the category "Best Inkjet Photo Paper".  The editors and publishers of 30 photo and imaging magazines from all over the world are excited about the papers from Hahnemühle's Natural Line:
"The Hahnemühle Natural Line appeals in both their sustainable manufacture and their unique surface characteristics.  The cellulose in these papers is supplied by raw materials that require minimal maintenance and do not need any pesticides.  Each 290gsm paper has a unique look and feel.  Bamboo is a warm tone paper with a lightly textured surface;  Hemp is a bright wide matte paper with a slight textural surface, and Agave has a more textural surface with a bright white base."
The Natural Line has a special place in the Hahnemühle Digital FIneArt Collection.  It focuses on FineArt inkjet papers made from unique raw materials: Bamboo, Hemp and Agave.  The plants that provide the cellulose require minimal maintenance, grow quickly, and don't need any pesticides.  Their rapid growth means that more cellulose can be produced on the same cropland than with other raw materials, and they also require much less water, helping to save valuable resources and protect the environment.   The new FineArt inkjet papers from the Natural Line are the next step in our continuous pursuit of sustainability and careful use of our resources.  The Natural Line complements the Digital FineArt Collection with special fine art inkjet papers made from unique raw materials and supports under the Green Rooster initiative environmental projects on a regional and international level.
Additionally, all three paper grades do not require optical brighteners, are acid and lignin-free, and are completely vegan - like all our Digital FineArt Collection papers.  
Clean water, natural fibres, first-rate expertise in paper production and absolute commitment to the production site in Germany have been the foundation of Hahnemühle's success for more than 435 years.  Hahnemühle treats its natural environment with respect and is socially responsible - after all, it wouldn't be able to create high-quality paper without this kind of uncompromising dedication.  Hahnemühle is proud of all it has achieved so far and is constantly working to improve sustainability and conserve resources.  Sustainability plays a key role at its production site as Hahnemühle is located close to a nature reserve.    Thus, environmentally paper production is a high priority.  Careful and responsible use of valuable resources such as water, fibers, and energy is a matter of course.
The Hahnemühle Natural Line papers are therefore the result of Hahnemühle's willingness to innovate, it's a commitment to sustainability and its sense of responsibility.
All three sustainable premium inkjet papers of the Hahnemühle Natural Line celebrated their worldwide premiere at the Photo Plus Expo in New York in Autumn 2019.  The world innovation was to make its debut in Germany at Photokina 2020 this year to demonstrate that perfect FineArt printing can be taken to a new level with sustainable papers.  Unfortunately, this is being postponed until 2021.  The outstanding artist papers from the Hahnemühle Digital FineArt collection are and will remain unique to the market.
---
About Hahnemühle
Hahnemühle is regarded as the inventor of Digital FineArt paper for inkjet printers. For more than 20 years, the oldest German paper manufacturer has been leading the way in producing true artist papers for photography and art reproductions. The papers – made with over 435 years of manufacturing experience – all receive a special coating that does not affect the exquisite feel of the papers. The inkjet coating produces prints with razor-sharp details, bold colours and deep blacks. All papers have an excellent resistance to ageing. The Hahnemühle Digital FineArt Collection offers more than 20 different types of paper, and the Hahnemühle Photo range includes eight types of media. Awarded 'Brand of the Century', Hahnemühle enjoys an esteemed reputation worldwide among artists, photographers, museums, galleries and collectors.