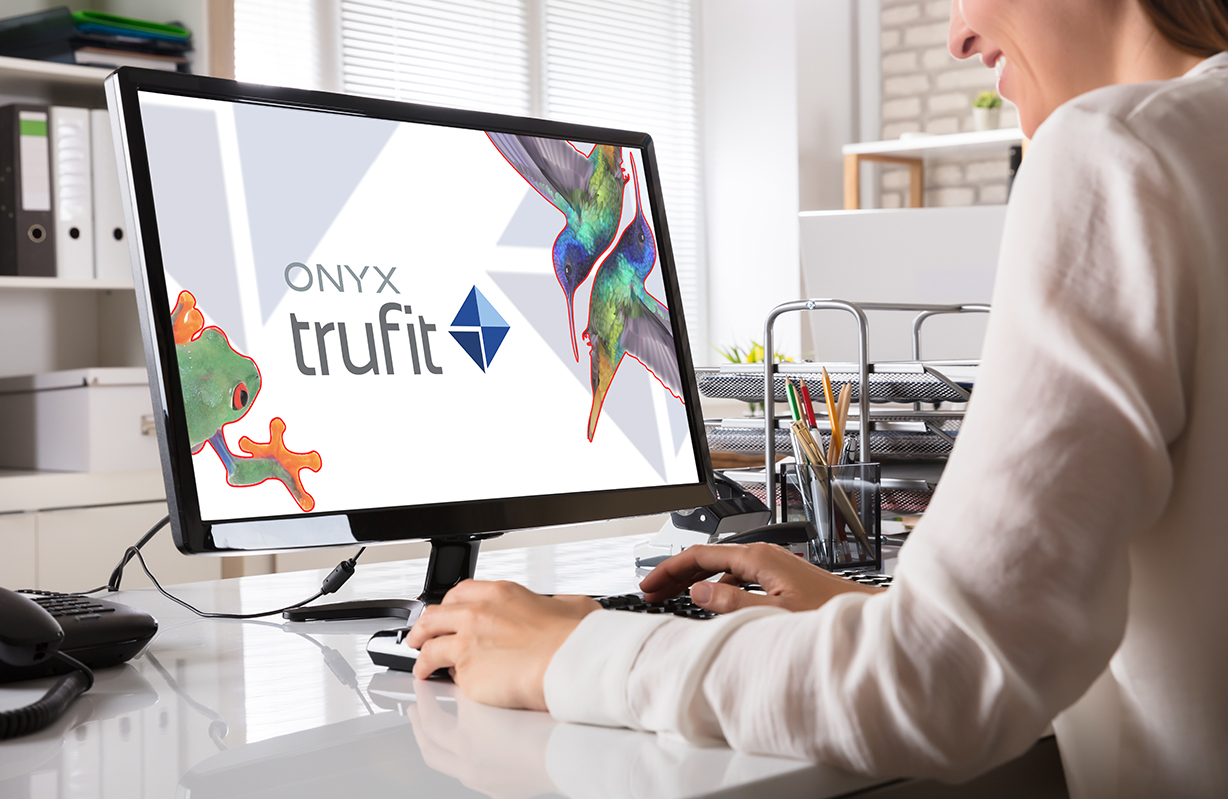 Today, Onyx Graphics, Inc., announced global availability of ONYX TruFit, the company's new shape-based nesting software. Using artificial intelligence to search millions of combinations for the most precise nests and media utilisation, ONYX TruFit saves valuable print production time and reduces media usage up to 50%. Designed to work seamlessly across both Windows and Mac OS platforms and with any RIP solution on the market, ONYX TruFit brings speed and simplicity to even the most complex nested layouts.
"Print Service Providers are under increasing pressure to produce more with less, and media usage carries a major cost with every print job," said Matt Crawford, Director of Product Marketing at Onyx Graphics. "This simple-to-use tool optimises media utilisation up to 50%, saving money on every job while improving output capacity in just seconds."
ONYX TruFit introduces new intuitive tools to save time, improve existing workflow efficiencies, and maximize media utilisation. Automatic cut-path and tool type recognition creates a seamless workflow from design file to print file; single-click image tracing and double-sided printing drastically reduce file preparation time before submitting jobs to the RIP-Queue, and ONYX hot folders provide fully automated print-and-cut workflows. Coupled with keeping original file properties unchanged for named colours, transparencies and colour management, ONYX TruFit is built for any wide-format print environment.
Highlights of ONYX TruFit include:
Artificial intelligence engine for optimal shape-based nests, reducing media waste up to 50%
Real-time media savings data during nest creation
Single-click image tracing to reduce file preparation time
Double-sided printing generated instantly for decals, stickers and other print applications
Automatic cut-path and tool type recognition to work seamlessly from design file to print file
Multi-page PDF edit capabilities to eliminate excess white space
Automated workflows using ONYX hot folders
Unchanged original file properties to maintain consistency between applications
Output PDFs for any RIP solution available today saving costly software changes
Open architecture to work cross-platform on Windows or Mac OS
Free educational webinars 
In consideration of recent news surrounding international tradeshows being postponed, Onyx Graphics is offering free educational webinars to see ONYX TruFit in action. In addition, 30-day trial licenses are being offered free. Visit www.onyxgfx.com for more details.
Availability
ONYX TruFit software – covering the entire product portfolio of ONYX solutions including ONYX Thrive print workflow, and ONYX RIP products including ONYX PosterShop, and ONYX RIPCenter – is now available to all ONYX customers by requesting a key update and to all other customers through a license purchase. ONYX TruFit is also available for non-ONYX RIP users and can be obtained through a license purchase.
---
About Onyx Graphics Inc.
Leading the market since 1989, Onyx Graphics is dedicated to helping customers increase productivity, reduce costs, and gain a competitive edge with superior print and colour quality.  Its passion for delivering superb colour led to the development of ONYX Color, Onyx Graphics own colour engine optimised specifically for large format inkjet printing.  Innovative, productive and satisfied customers around the globe help motivate the company to continually develop and enhance its leading-edge technologies.  Global channel partnerships and longstanding relationships with printer manufacturers position Onyx Graphics as a market leader in powerful, reliable, large format printing workflow software.