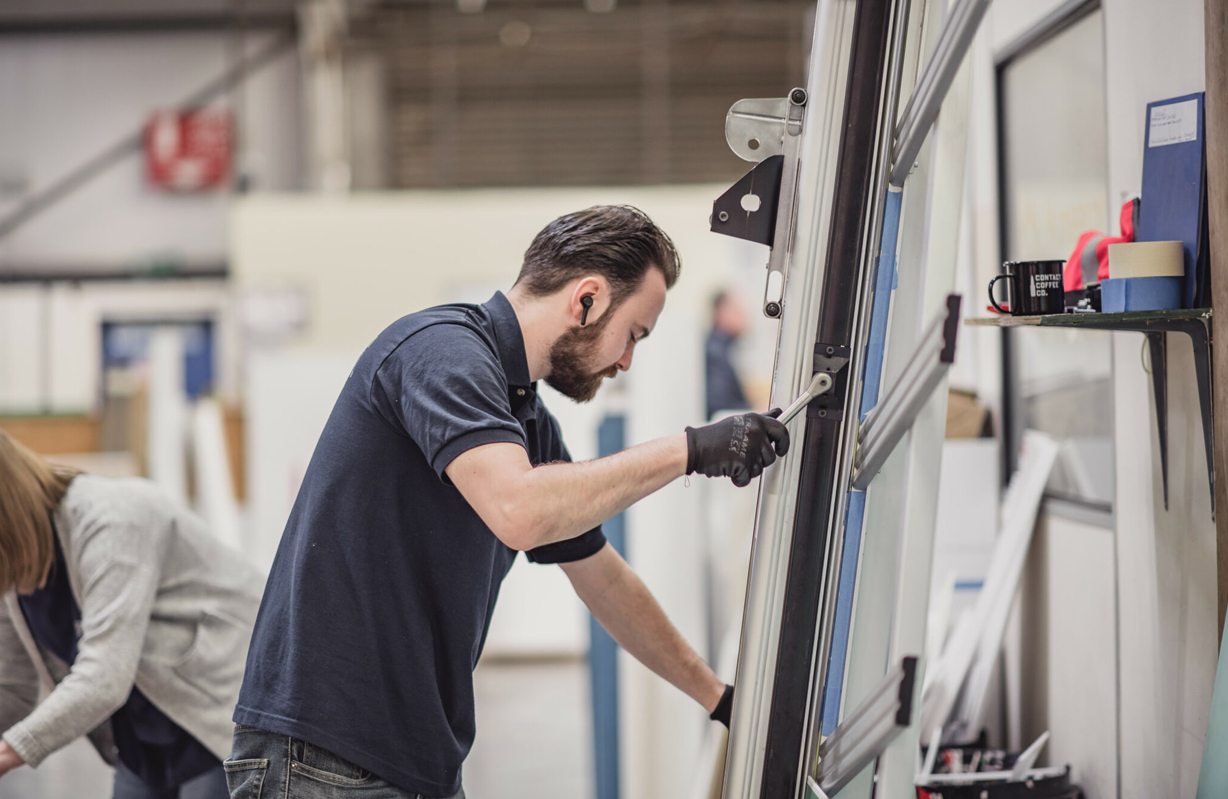 Darren Haynes is the Operations Manager for the inspiring social enterprise Nuneaton Signs. Darren has been telling us how two Keencut SteelTrak cutting machines have transformed their print-finishing process. Nuneaton Signs is a social enterprise company which provides meaningful employment and training for people with disabilities through the manufacture and sales of signs. 71% of staff have at least one disability or mental health condition, and the organisation reinvest 100% of its profits back into the business to expand the number and quality of opportunities for those it supports. Nuneaton Signs started in 1982 as a sheltered workshop to support and upskill differently abled people. It has an impressive client list of major UK private and public sector organisations, and, as with any company, its clients are looking for quality and value for money. Winning many awards for its activities, Nuneaton Signs recently hit a £4.9 million turnover and aims for £6 million.
Darren told us about the production facility and how they use their two Keencut SteelTraks.
"We bought the first SteelTrak four years ago, and we loved it. We have been growing fast in the last four years. We have 73 members of staff, and with a new flatbed printer which allows us to complete more work, we needed additional cutting capacity. We employ people to do manual work, and the SteelTrak is an ideal tool for us. Four key SteelTrak benefits have made a difference:
Cut out the dust
"The SteelTrak's ability to cut without dust transforms the cutting process and ensures a quality finish. We can site the area for cutting next to the flatbed printer without any worries about damage.
Initially, we used a vertical wall saw, but when you cut 10,000 foamex signs a month, the dust is everywhere; it's in the whole building. Static build-up makes the dust stick to all the signs, and dust can potentially damage the printer heads. You are literally dealing with tons of dust a year. You are constantly cleaning the area, and lying vinyl on boards in a dusty area will never give you a good finish."
Safety
"To start with, the SteelTrak solves the issue of breathing in dust generated by cutting with a wall saw. We have also eliminated the need for hand cutting. We would often cut the thinner 3mm boards with a knife by hand, but we do not need to do that now that we have the SteelTraks on site. The blades are hidden for general safety, so apart from when you change the blade, everything is away from your hands."
Robust
"I estimate our SteelTraks cut three boards a minute for eight and a half hours daily. They are incredibly robust. We cut everything from ACM to 10mm Foamex. We also work with our Enviro range of 100% PVC-free boards. We are working hard to promote more recycling in our industry. We have been working to convert clients to environmental boards so that used signs can be placed into normal recycling waste sites. The key is for companies to swap totally to Enviro board so that they know that everything they use can be recycled."
Easy-to-use
"We employ and offer internships to people with a wide range of abilities. We have found that individuals who cannot work in other areas can master the SteelTrak. Having a machine that is so easy to use is a real benefit. Most people can use a SteelTrak without much input, and there is a huge sense of achievement in creating a set of well-finished signs. For some of the extra maintenance tasks like renewing blades or the sightline strip, we may get a more experienced operator to help, but for general use, the SteelTrak is easy to use. After a day, people are an expert at cutting with a SteelTrak."
To learn more about the benefits of using the Keencut SteelTrak in your production click here
To find out more information about Nuneaton Signs click here