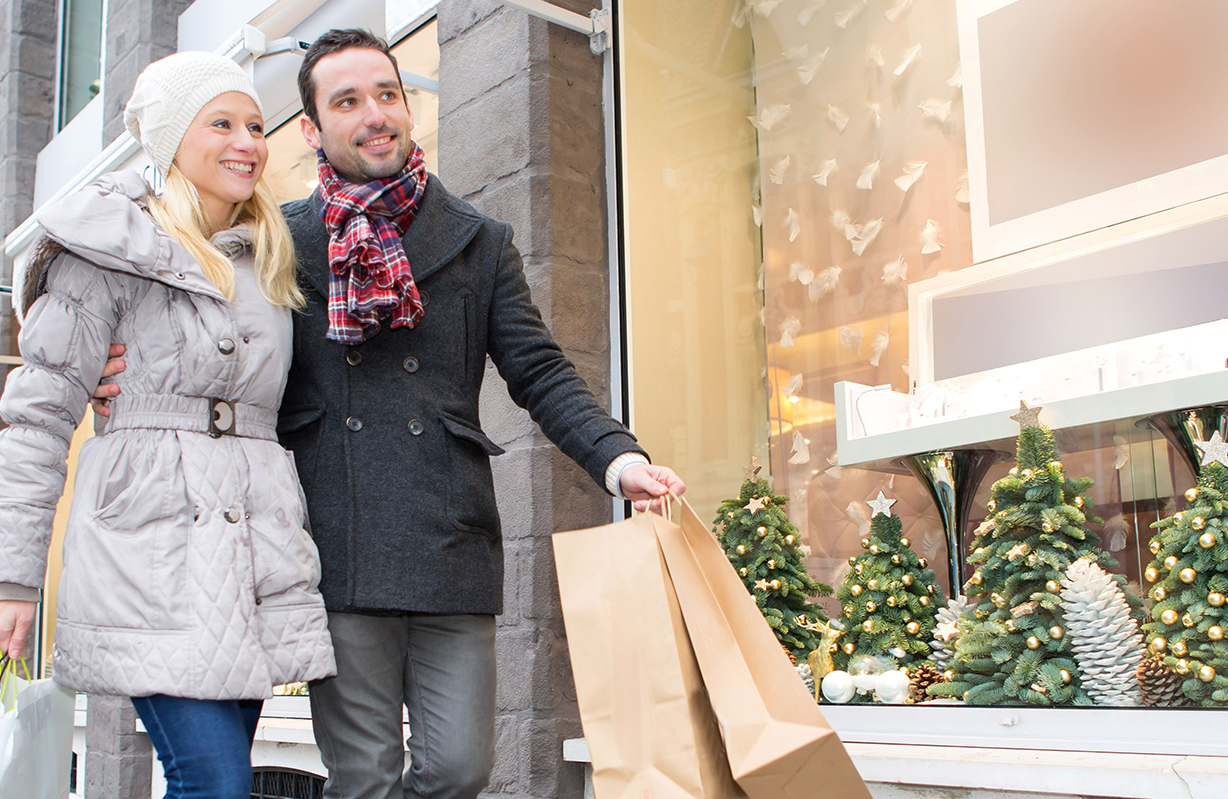 Have you given any thought to the Christmas decorations and designs you want to use for your business this year? Before you know it, Christmas will be here, a significant sales period for many retailers. People are on a shopping spree, and of course, retailers like to exploit it. But how do you make sure that you stand out from your (online) competitors? Make sure that a physical visit to your shop in the Christmas spirit is an "experience" that is nothing compared to online shopping. In this blog, we explain how you can do this using print media and how you can stand out with a well-designed Christmas campaign.
Bring the Christmas spirit to shop windows
Online shopping may be practical, but the ambiance is also an essential factor in the shopping experience in December. With a festive décor and matching shop furnishings, you can attract potential visitors. But first, you have to get people passing by to come inside. How do you do that?
Make your storefront the showpiece of your shop; raise the curiosity of people passing by and make it attractive for them to step inside. Tell your story or message conveniently with an easy-to-apply window film. Use window film as lettering or go for contour-cut decorations like Christmas balls, Christmas trees, and snowflakes to create a beautiful Christmas atmosphere.
Use material suitable for temporary (Christmas) campaigns; an ideal material for window advertising is easy dot®, a cost and time-saving solution for the busy festive season. Air channels are created because the easy dot® adhesive is not uniform but consists of "dots". This makes it very easy to apply, reposition and remove the film without leaving any adhesive residue. Therefore, your designed, easy dot® stickers can be applied effortlessly by the end-user (e.g., your staff). Simply applying the sticker by hand is sufficient; any air bubbles are easily removed through the air channels in the adhesive. Did you apply something to the wrong place? No problem! easy dot® can be removed carefully and re-applied. Besides white or transparent, easy dot® is also available as a coloured film in the colours of gold, silver, red, blue, green, yellow and black. Perfect for the Christmas season! The colour films can be easily plotted or die-cut and are therefore ideal for window lettering and decorations.
Tip: For shop window advertising, the sticker is best applied to the inside of the window. This way the sticker is not only protected against vandalism, but it is also not exposed to weather conditions. In addition, the sticker adheres much better, because the inside of a window does not (easily) reach a temperature below zero. The sticker can be applied to the inside of the window by mirror-inverted printing on transparent material, making the advertising message optimally visible from the outside.
Transform your walls with print media for wall decoration
Naturally, wall coverings cannot be left out of an attractive Christmas decoration. You can think of several options for the decoration of walls. With contour-cut stickers made of easy dot® material, you can give your walls, doors, and displays a quick and easy makeover. Do you really want to go all the way? Then opt for a wall-to-wall design so that you stand out even more. Do you prefer materials with a more natural look? Then a PVC-free self-adhesive non-woven wallpaper for temporary applications is a good option. Neschen event fleece L-UV adh is an inexpensive self-adhesive non-woven material wallpaper, with a removable adhesive, for almost all smooth surfaces and therefore ideal for short-term promotions such as your Christmas campaign. Want a more luxurious look at Christmas? Then take a look at PVC-free self-adhesive banner material such as FILMOeco Kavalan Gecko FR-AD. This is a polyester textile banner especially for wallcoverings with a water-based PVC-free resin coating and equipped with a removable adhesive. Last but not least, FILMOeco Kavalan Gecko FR-AD, just like the easy dot® range and also the event fleece, is flame-retardant and certified according to EN 13501 (European test standard for reaction to fire).
Involve the floor in your festive decor as well
Shop windows, windows, and walls may be more obvious, but you can also use the floor for advertising and decoration. Floor graphics are ideal for advertising, decoration, or signage because they have high attention value. So use the floor for your Christmas campaign too, because your visitors literally cannot miss it when they walk on it. A good anti-slip certified material is absolutely essential here. Would you like more tips on using floor stickers? Then also read the associated blogs below with the most frequently asked questions about these materials.
Posted:
December 03, 2021
|
|